U.S. urges Burundi to drop constitution changes, avoid 'dark days'
Tue, Apr 08 15:18 PM EDT
By Patrick Nduwimana
BUJUMBURA (Reuters) - The United States urged Burundi's president on Tuesday to drop planned constitutional changes that could upset a delicate ethnic power balance, warning that the country risked a return to the "dark days" of civil war.
Samantha Power, the U.S. ambassador to the United Nations met President Pierre Nkurunziza - who might be allowed to run for a third term under a new constitution - and told him he should leave the current system in place.
"What we stressed was that the president has a tremendous legacy and he has built with the people of Burundi some great successes from 2005 until the very present," Power told a news conference in Bujumbura after her meeting.
"We believe that his legacy should be one of respect of the constitution, thus we urge again that the constitution, the rule of law and human rights be respected."
The proposed constitutional amendments have stirred the worst political crisis in the east African country since the 12-year civil war ended in 2005, and raised fears of new turmoil.
The plan would mean a single powerful prime minister from the ruling party replaces two vice president posts currently shared between the majority Hutu and minority Tutsi ethnic groups.
In March, the ruling CNDD-FDD party failed to win parliamentary approval for the constitutional changes, but the government said they might be put to the people in a referendum instead.
On her Twitter account, Power called for international intervention to prevent matters deteriorating in Burundi.
"Burundi needs international attention now to ensure that it doesn't return to the dark days of its past. (We) must engage early and persistently," she wrote.
In a previous tweet, she said Burundi's post-civil war progress had begun to unravel as the "government moves to strip political freedoms and stifle dissent".
Power said the United States would provide $7.5 million to support Burundi's efforts to hold elections in 2015.
The constitutional dispute has driven a wedge between the Hutu-dominated CNDD-FDD and its junior governing partner, the Tutsi-led Uprona party whose leadership believes Nkurunziza is maneuvering to stand for a third term, beyond the prescribed two elected terms.
Burundi's political stand-off has raised the risk of another explosion in a volatile region already grappling with unrest in eastern Democratic Republic of Congo, South Sudan and Central African Republic.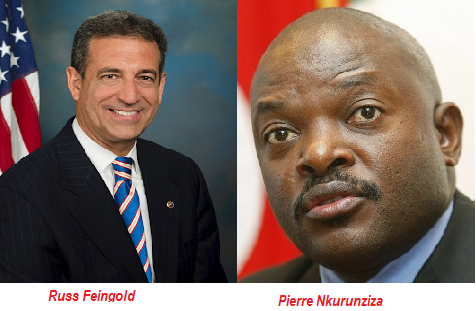 Pour être informé des derniers articles, inscrivez vous :