by JohnsonJJ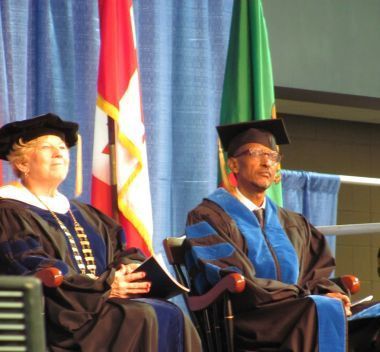 On May 12, 2012, under the close watchful eye of the Oskaloosa, IA police and the Rwandan Secret Service, approximately 30 Rwandan,
Burundian and Congolese protester stood in the heat of the day to object to the convocation speech and granting of the Honorary Doctorate degree of Humane Letters upon Paul Kagame, President of Rwanda.
They chanted "Kagame…Criminal… Kagame…Criminal" in various languages as the graduates arrived for their ceremony; even President Kagame's motorcade passed by the protest.
The group was powerful and their message was heard by all who attended.
President Kagame arrived a few minutes after the ceremony had started and quickly left before the students were excused from the ceremony. His motorcade quickly whisked him back to the regional airport where his plane was waiting for him and his entourage.
The lines to get into the graduation were more than 300 people deep in each of two lines as everyone had to pass through a metal detector and be searched due to the president's security.
Inside the event, no protester attempted to disrupt the day for the sake of the student and respected all boundaries set by the school and local police. The Rwandan Secret Service was seen videotaping the protesters on numerous occasions.
Prior to President Kagame giving his convocation speech to the graduating class of more than 300 students, 4 of which were Rwandan, he received the Honorary Doctorate Degree of Humane Letters which is generally given in recognition of achievements in humanities or for philanthropic work.
Doctor of Humane Letters degrees should not be confused with earned academic degrees awarded on the basis of research and is always conferred as an honorary degree.
As the President of the William Penn University, Dr. Ann Fields, was introducing President Kagame she explained that he was receiving this award for his role in rebuilding Rwanda's "economic and social development and self-reliance" she specifically focused on two awards he had received prior, The African Gender Award for his role in promoting gender equality in Rwanda and The Children's Champion Award by UNICEF for promoting children's rights.
One has to wonder if President Dr. Ann Fields had done much research on Rwanda and President Kagame's actions therein.
During his speech and time on the stage, of which he never once smiled and looked quite serious the entire ceremony, Dr. President Kagame expressed deep gratefulness for the honorary degree and then directed his attention to the students.
He stated that, "Rwanda shares the principles and values of which the University was founded on."
The university was founded by the Quaker who believe in principles of a common and shared humanity, social justice, the liberating effects of knowledge, gender equality, peace, the Christian ideal of love, and taking a principled stand against persecution even if this is against a few. Does this description sound like the Paul Kagame the world has come to know as the Dictator of Rwanda?
He further stated that "the key to change in Rwanda lies in each Rwandan Citizen and their interactions with each other to find a common ground, cause and purpose and to come together for peace and national prosperity."
While the resilience of the Rwandan People is remarkable and unlike no other nation one has to question how free people are to speak their mind and interact with each other on social change issues, especially those of politics and the government, in a safe and free manner?
As the speech continued it became obvious that his speech was akin to more of a political propaganda speech aside from the last 3 minutes where he addressed the students directly and inspired them to lean on the lessons of learned from Rwanda through its transformation out of decades of impunity by upholding their values in order to distinguish themselves as leaders and to make the world a better home for all of its citizens.
The night before the graduation on the 10pm local evening news they reported the upcoming speech as a controversy and interviewed Steven Noah, Vice President of Government relation, Outreach and Special Projects. Steven Noah stated that they requested President Kagame to address the graduating class as well as receiving the Honorary Doctorate was because, "what Paul Kagame has done since the genocide is just remarkable." He further went on to respond about the protestors that they blame Paul Kagame for everything negative that has happened in the Great Lakes Region of Africa.
In July 2008, the university signed an agreement with the Ministry of Education in Rwanda to accept four Rwandan "Presidential Scholars" to enroll at the institution. William Penn University renewed the agreement with the ministry in September of 2011 and will take in an additional five students from Rwanda per academic year, beginning this year.
There is no denying that Rwanda has undergone remarkable development since the end of the genocide in 1994 when the RPF took power and development and infrastructure have improved greatly in Kigali.
Even some of President Kagame's harshest critics will grant him that positive gain. But is development of infrastructure enough? Is having half of parliament being women enough to be considered gender equality? It is a well-known fact that parliament has no power and is only there to rubber stamp what they are told to do.
As the day wrapped up and the motorcade was whisked off to the airport news began to surface of President Kagame being named in a class-action suit and having been considered served at William Penn University with a legal Summons. The following press release was published the next day:
President Paul Kagame Served With Class Action Suit In Iowa
May 14, 2012 – A coalition of social justice organizations descended upon William Penn University on Saturday, May 12, 2012 to protest the honoring of General Paul Kagame by inviting him to give the commencement speech and awarding him with a honorary doctorate in Human Letters. The Coalition notes that General Kagame's thirty-year career dominated by war, invasion and iron-fisted dictatorship, cannot be something that William Penn would have admired. Honoring that career violates those broader Quaker principles that we deeply admire—simplicity, peace-making, integrity, community and equality.
In addition to the protest, President Kagame was served with a law suit. The summons and complaint filed with charges against "President Paul Kagame et al." were served at William Penn University's campus during his commencement speech on May 12, 2012 in Oskaloosa, Iowa. Paul Kagame is the current president of the Republic of Rwanda.
In this Case "4:12-cv-00191 – Habyarimana and Ntaryamira vs. Kagame et al., " Paul Kagame is being sued on 8 counts of "Wrongful Death and Murder, Crimes Against Humanity, Violation of the Rights of Life, Liberty and Security of Person, Assault and Battery, Intentional Infliction and Emotional Distress, Violations of the Racketeer Influenced and Corrupt Organization Act, Torture, Conspiracy to Torture" for his criminal activities in Rwanda and the Congo. He is being sued in this civil case for $350 million by the wives of former Rwandan and Burundian presidents Habyarimana and Ntaryamira.
Kagame's co-defendants are William Penn University President Ann Fields (invited Kagame to speak, provided him with honorary degree, has business ties to Rwanda), former Rwandan ambassador Theogene Rudasingwa, and Pierre-Richard Prosper (American lawyer who defended Kagame in similar Oklahoma case, former prosecutor at the ICTR, and former government official, former advisor to Mitt Romney).
As Dr. King presciently noted, "The arc of the moral universe is long, but it bends towards justice!"
You can contact the legal team for the plaintiffs at the info below.
Contact:
International Humanitarian Law Institute
Prof. Peter Erlinder, Director
Here are the legal documents being used for the case:
http://kambale.com/pdf/kagame_case_iowa_summons_may11_2012.pdf
Complaint/Case file
http://kambale.com/pdf/kagame_case_iowa_complaint_may11_2012.pdf
Letters sent to William Penn University President Ann Fields by the Africa Great Lakes Coalition
http://congofriends.blogspot.com/2012/05/protesting-wpus-decision-to-honor.html
Calls to Ann Fields Office when unreturned and Dr. Theogene Rudasingwa had "no comment" in reaction to this news.
So, while President Kagame received a Doctorate Degree in Humane Letters he also received a Summons on account of his documented human rights violations.
Which piece of paper holds more value to him now?
Editor's note: If anyone intends to write a threatening email over this story, send it to me, Tim King:tim@salem-news.com so that I can promptly turn your information over to INTERPOL and the FBI.