Summary concerning summons, exhibits and complain against Kagame in Southern Iowa (U.S.A.)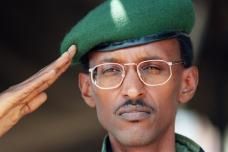 As you may know, Rwandan President Paul KAGAME has received an honorary doctorate from William Penn University as he gave the opening speech for the graduating class, where 3 graduating Rwandans were attending on a Presidential scholarship.
However, that is not all the president has received. As he was served in Oklahoma with a wrongful death civil suit, President Kagame was again served with another wrongful death civil suit in an Iowa district court during his trip to the university.
But this time, Kagame is not alone. Co-defendents in the trial include Dr. Theogene Rudasingwa, Dr. Ann Fields (President of William Penn University), and Mr. Pierre Prosper (former Ambassador-at-large for War Crimes, one-time ICTR prosecuting attorney, and lawyer for Pres. Kagame in the Oklahoma lawsuit). Below are links to the relevant documents.
Feel free to distribute them, blog about them, and/or reference them to write articles for publishing.
Source :  http://www.africandictator.org/?p=8315
DOCUMENTS :
* 20120511-kagame_case_iowa_summons_may11_2012.pdf (application/pdf) 23,00 Ko
* 20120511-kagame_case_iowa_exhibit_A_may11_2012-confession_Rudasingwa_20111001.pdf (application/pdf) 116,00 Ko
* 20120511-kagame_case_iowa_complaint_may11_2012.pdf (application/pdf) 97,00 Ko
Pour être informé des derniers articles, inscrivez vous :