ON RWANDAN GOVERNMENT PASSPORTS FOR RWANDAN FORMER REFUGEES' LOCAL INTEGRATION IN ZAMBIA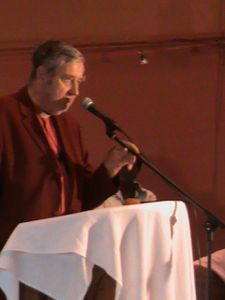 Submitted by Rt Reverend John Osmers, Assistant Anglican Bishop of Lusaka
 At an inter-ministerial meeting held in Pretoria on 18 April 2013, the Zambian Minister of Home Affairs offered local integration to Rwandan refugees under conditions of Zambian law because of 'fear of persecution.' The Government of Zambia offer was welcomed by Rwandan refugees, who up to that point had been offered only repatriation to Rwanda. The offer was in line with an earlier offer to give local integration to 10,000 Angolans who had lived many years in Zambia. Both offers were dependent on international donor assistance.
At the April meeting the Rwandan delegation offered to issue Rwandan passports needed to facilitate voluntary repatriation and local integration. It later appeared that the passport application would not be the normal Rwandan passport application, but a document signifying support for the Rwandan Patriotic Front (RPF) Government:
(a) Rwandan refugee applicants need to sign, 'I hereby declare I willingly abandon my refugee status,' thereby agreeing that they no longer fear persecution from the Rwandan RPF Government. However refugee status is given by the Zambian Government, not the Rwandan Government, and appeals against removal of refugee status of 98% of Rwandan refugees still lie on the Minister of Home Affairs' desk.  
(b) By applying for a passport, Rwandan refugee applicants agree that Rwanda has made fundamental and durable changes to establish democracy, justice and peace in the country, thereby making refugee status no longer necessary. This despite the fact that the cessation clause does not apply to those who left the country after December 1998, making Rwanda a country still producing refugees who are recognised as such.   
(c) Rwandan refugee applicants need to give the names of three relatives inside and three outside Rwanda, thereby making them open to surveillance by Rwandan state security.
(d) By acquiring Rwandan passports, former refugee applicants can no longer rely on the Geneva 1951 and AU 1969 Conventions for protection against forced repatriation.
The Rwandan Government evidently hoped that as Zambia had gone further than other countries with the process of implementing the Cessation through interviews, it would be the first to arrange for Rwandan Government passports to assist voluntary repatriation, and facilitate former Rwandan refugees' local integration in Zambia. They held their first meeting with the Government of Zambia on 5 July, only five days after the Cessation. The Joint Communiqué declared the inter-Governmental meetings were friendly. Significantly the meeting between the Rwandan delegation and a small group of Rwandan refugee leaders from Lusaka and Meheba Refugee Settlement was a hostile one.
On 18 November a second delegation came to deal with passport applications. They held meetings with Zambian Government leaders, but not with former Rwandan refugees either in Lusaka or Meheba Refugee Settlement. There appeared to be a total boycott of planned meetings. It has been reported that of the 400 Rwandan heads of families in Lusaka, about 12 took Rwandan Government passport application forms. In Meheba Refugee Settlement of about 1200 heads of families, only one, a Rwandan married to an Angolan.  In Lusaka a peaceful demonstration of Rwandan refugee youth, many dressed in black, held placards which condemned Rwandan passports as a strategy for Rwandan RPF Government control. They said:
'Acquiring Rwandan passport equals forced repatriation',
'Passport is our death',
'Passport is for RPF which we escaped from',
'Agony is when people who want to kill you are now acting as saviour of today',
'We thank Zambian government for our home in Zambia',
'No Rwandan passport'
For the Zambian Government, the Rwandan Government passport is the document required by Zambian law for Rwandan former refugees to obtain Zambian immigration permits. It affirms foreign nationality. For the Rwandan former refugee, the passport is seen as a 'travel document' potentially taking them to Rwandan Government control by renouncing their fear of persecution, affirming Rwanda to be peaceful, and removing their international  protection.
Rwandan former refugees show universal appreciation for the offer of local integration in Zambia, and welcome Zambian identity documents that would facilitate that. They show total opposition to any intervention by the RPF Rwandan Government from which they fled for fear of persecution.

Opposition to Rwandan Government passports has had some international coverage. Unfortunately some writers, probably hostile to the Zambian Patriotic Front Government, have used opposition to taking Rwandan Government passports to put out rumours of forced repatriation. In fact the Zambian Government shows commendable commitment to durable solutions that will both follow Zambian law and be acceptable to Rwandan former refugees.
Pour être informé des derniers articles, inscrivez vous :