Is Rwanda's Kagame connected to the sudden death of Komla Afeke Dumor? Was it murder?
"Is Rwanda's Pres. Paul Kagame a visionary or a dictator?" - Facebook post by Komla Dumor
(SALEM/BERLIN) - The BBC reported that Williams Nkurunziza, Rwanda's high commissioner to the UK, said former Rwandan intelligence chief Patrick Karegeya was an "enemy of the state". Mr Karegeya was apparently murdered, his body was discovered in a South African hotel room. Police in South African police said the 53-year-old may have been strangled. A rope and bloodied towel were found in the safe of the hotel room where his body was discovered. (see: BBC - Rwanda ambassador: Karegeya 'was enemy of the state')
Komla Afeke Dumor passed away suddenly on 18th January 2014 in London. He is the former host of Network Africa for BBC World Service, who joined The World Today programme. Mr. Dumor became the first host of the African business news programme on BBC World News, Africa Business Report.
On 20 May 2013, Komla Dumor asked Rwandan President Paul Kagame about allegations that his country was using proxy forces in the Democratic Republic of Congo. This is a widely reported story; that Kagame was using rebel forces to pillage resources from Congo, for landlocked Rwanda. Kagame told Dumor that the allegations are "ridiculous" and "an effort to circumvent the real problem". (see: BBC - Paul Kagame denies Rwanda proxies in DR Congo)
The BBC reported, "UN experts have cited evidence that Rwanda and Uganda are backing the M23 rebel group, which has been active in eastern DR Congo since last year."
Dumar conducted an interview with former U.S. President Bill Clinton in recent months, about his support for Kagame when so many allegations of Kagame's criminality have been raised. Dumar also criticized Rwanda's lack of free press in his interview with Clinton, which Clinton defended.
It is clear that Dumar was trying to raise awareness of the very serious problems tied to Kagame.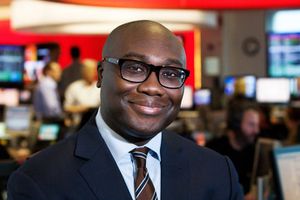 The possible murder of BBC journalist Komla Dumor, seems even more possible considering that he had a very interesting interview with the Rwandan ambassador four days before he suddenly died, inexplicably, at the age of 41. His sudden death was reported to be a suicide. Amadou Camara with allafrica.com wrote,
"What makes the story unbelievable was that I saw Komla Dumor that week presenting his Africa flagship programme, Focus on Africa, on television. He was visibly healthy alive and kicking buoyed with energy and enthusiasm, as always. I can vividly recall his last programme. The headline on that day was on a veiled threat that the charismatic but ruthless Rwandan President, Paul Kagame, gave to political dissidents of his country. After flashing his infectious smile to the camera, Komla Dumor read the headlines and settled to interview the Rwandan High Commission to the United Kingdom, Williams Nkurunziza. He fired his question addressing him as Mr., always showing respect to people, he asked by saying that betraying your country have its consequences whether President Kagame was tacitly acknowledging that his assassins gun down the former Rwandan spy chief, Patrick Karageya, who was strangled to death in his hotel room in South Africa. Unsurprisingly, the question sent chills of unease in the High Commissioner, who mumbled a denial before deliberately plunging into the strong economic credentials of President Kagame's government, an often-repeated tactics by regime figures whenever the ruthless side of the president against political opponents is mentioned."
Amadou Camara also referenced that from 22-25 January, all roads would be leading to Davos, Switzerland. "All the political and economic heavyweight of Africa would make the case for investors to look at the potentials that lie in investing in Africa." Mr. Dumos's death was announced on 18 January.
allafrica.com - Africa: Davos - Africa Rising
The following is an open letter from Dr. Sabine Grund in Berlin, to officials with The BBC.
"

 


Dear Stephen Sackur,
dear Tim Franks,
dear Zeinab Badawi,
dear Nic Gowing,
dear James Coomarasamy,
dear Jon Sopel,
dear BBC,

When it was reported that the very active Komla Dumor had suddenly died at age 41, it sounded strange to me, as I had seen him on TV just recently.

 When it subsequently emerged that he had done a remarkable interview with the Rwandan ambassador in London four days before his death, this sound all the more strange, given the record of killings by the Rwandan regime.

Has there been an autopsy to verify the cause of Komla Dumor's death?

When I wrote to the BBC on the website form sheet
(BBC Enquiries - Case ref: CAS-2527303-MZ5BL3)
the response from an Audrie Wilson on Friday 24 January 2014 stated:

"If you have any suspicions about Mr Dumor's death, you should report this to the police."

Komla Dumor was a colleague of yours in the famous BBC. Besides, this is a matter of the British, not German, police. What interests me is if the appropriate journalistic questions have been raised and tackled in the BBC and presented to the public.

My apologies if I missed any reporting on your part.

Since my question has not been answered so far, I do not feel in a position to respond to the audience services feedback that was sent to me yesterday.

Sincerely,
Sabine Grund
Berlin

Links:

http://www.france-rwanda.info/ article-bbc-komla-dumor- trouve-mort-quatre-jours- apres-avoir-interviewe-l- ambassadeur-du-rwanda- 122163727.html
Mardi 21 janvier 2014
BBC : KOMLA DUMOR TROUVÉ MORT QUATRE JOURS APRÈS AVOIR INTERVIEWÉ L'AMBASSADEUR DU RWANDA
+
http://www.bbc.co.uk/news/ world-africa-25718785
Rwanda ambassador: Karegeya 'was enemy of the state'
13 January 2014, Last updated at 21:24 GMT
Williams Nkurunziza, Rwanda's high commissioner to the UK, has told the BBC
that former Rwandan intelligence chief Patrick Karegeya was an "enemy of the state".



Pour être informé des derniers articles, inscrivez vous :