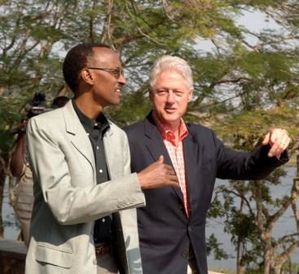 To the attention of Mr Bill Clinton
77 Water Street New York - New York, NY 10005
Copy to the International Civil Society and to the International Community

Bill CLINTON TO VISIT THIS WEEK RWANDA 

REDCROSS - NORTH KIVU : 700 000 new displaced persons in reason of the Rwando-Ugandese offensive - 2.000.000 displaced people : this is a low intensity genocide
PENTAGON PRODUCES SATELLITE PHOTOS OF 1994 RWANDA GENOCIDE 
6th February 2008 - SPANISH ACCUSATION ACT against the 40 highest Rwandese officers for war crimes, crime against humanity and genocide
GLOBAL WITNESS : Donors must hold Rwandan government to account for supporting new rebellion in eastern Congo
----------------------------------------------------

RWANDA HAS REFUSED THE RETURNAL OF RWANDESE SOLDIERS SERVING THE M23 REBELLION ACTIVE IN EANSTERN CONGO
What has flared up the fighting in DR Congo?

L'OUGANDA DERRIERE LE M.23 - Débat à Kampala, silence radio à Kin
Already 4 years ago - Massacre in Kiwanja - The New York Times  
----------------------------------------------------
ALL THE RELIGIOUS CHURCHES AGAINS THE RWANDESE ATTACK IN EASTERN CONGO
Les évêques catholiques disent non à la balkanisation de la RDC
MONUC - Roger Meece : «Toute tentative de diviser le territoire congolais n'est pas acceptable»

Insécurité dans l'Est : attitude ambiguë de l'Union européenne
Rwanda - PROCES Victoire INGABIRE : «un cirque malheureux»
----------------------------------------------------
CRISIS IN THE CONGO : UNCOVERING THE TRUTH explores the role that the United States allies (UK - Canada), Rwanda and Uganda, have played in triggering the greatest humanitarian crisis at the dawn of the 21st century
Rés. PAIX POUR LE CONGO - 9 juillet 2012 : LE RWANDA, L'ARBRE QUI CACHE LA FORÊT
*   LE RWANDA MET EN PLACE LES CONDITIONS POUR UN NOUVEAU GENOCIDE DANS L'EST CONGOLAIS
Relecture de la manifestation de Goma – LE PIEGE DE KAGAME
Des tracts venus de nulle part inondent Goma : ils sont destinés à attiser la haine entre ethnies congolaises car les Congolais n'ont pas la culture de la violence. Ces tracts "venus de nulle part" ont été imprimés à Kigali au moyen d'une ligne budgétaire du service de renseignement, d'action et de propagande à l'étranger, External Special Operation (E.S.O.).  Que Kagame prouve le contraire.
Les soldats rwandais, qui sont revenus du Soudan (Sud-Soudan) après la division de ce pays en deux parties, ont été envoyés à l'Est de la RDC pour renforcer les soldats rwandais qui s'y trouvaient déjà en appui aux rebelles de M23 issus du CNDP. La puissance de feu, le nombre subitement important des effectifs militaires engagés dans les hostilités contre les FARDC et l'aggravation de la situation sécuritaire dans le territoire de Rutshuru, province du Nord-Kivu, s'expliquent par cette présence massive des soldats rwandais revenus du Soudan et rapidement affectés à l'Est du Congo.

Le Rwanda est le principal responsable des dégâts matériels, des pertes en vies humaines et des graves violations des droits humains dus à l'action des mutins. Ce ne sont pas seulement les positions des FARDC qui sont prises pour cibles dans les tirs des soldats ennemis mais aussi les campements des éléments de la MONUSCO déployés sur le terrain pour maintenir la paix et protéger les populations civiles, conformément à leur mandat. A distance, le Rwanda est épaulé par les Etats étrangers et les firmes transnationales qui bénéficient des ressources naturelles pillées par le Rwanda à l'Est de la RDC mais il reçoit également le soutien des marchands d'armes à la recherche des foyers de tension pour liquider leurs vieux stocks.
"... When we consider the suffering and the scale of the atrocities in Congo, we cannot but recall our own 6 million victims of Nazi genocide. The "hear nothing, see nothing and do nothing" approach fails to fulfil the promise to "never again!" stand idly by while human beings are slaughtered. It denies justice to the victims and questions our very commitment to humanity ... "
" For far too long has the United States along with other multinational special interest Nations been deaf to the cries of the dying and survivors of this ongoing conflict, propositions have been drawn up to catch a general interest but always fall short on deliverance, instead these nations would rather back well documented war crime nations like Uganda and Rwanda with military supplies and training. Not only that but also fund the very genocidal factions themselves by purchasing mineral resources from their business fronts that funnel the money to keep them in their seats of power. It is time that United States government set the example for what honor, dignity, and humanity stand for by not turning a blind eye to this violence instead putting a foot down and standing firm against these War Criminals and see that they are put to justice in the correct fashion and that the U.S and other Nations help establish a peaceful ground for the people of this conflict to live on and flourish just as we had when we established this fine nation of ours. - Anthony Randal Moore "
-----------------------------------------------------------------------------------
PENTAGON PRODUCES SATELLITE PHOTOS OF 1994 RWANDA GENOCIDE
UN REPORTS TO LINKS RWANDA TO CONGO GENOCIDE
Génocide au Congo : l'ONU accuse le Rwanda
Les U.S.A. protègent le Rwanda accusé de soutenir les rebelles du M23
Guerre dans l'Est : le double jeu de Washington - Le Potentiel
CANADA IN THE WARS IN CENTRAL AFRICA
Le Canada Dans les Guerres en Afrique Centrale
GREAT BRITAIN's Proxy Wars in Africa  -  In calls to DR Congo and Rwanda leaders, Ban voices concern over M23 renegades
Tony Blair meets with 'visionary leader' Paul Kagame during latest two day visit to Rwanda
Forget Gaddafi. Blair's NEW best friend is a despot guilty of even bloodier slaughter
Tony Blair defends support for Rwandan leader Paul Kagame
Tony Blair, trips to Africa and an intriguing friendship
------------------------------
AMNESTY INTERNATIONAL : Les nouvelles violences dans le Nord-Kivu font craindre que l'histoire ne se répète
GLOBAL WITNESS : Donors must hold Rwandan government to account for supporting new rebellion in eastern Congo
GLOBAL WITNESS : Les donateurs doivent demander à Kigali d'arrêter l'aide aux rebelles en RDC
FRIENDS OF THE CONGO -  Support the Congolese people against colonization of Kivu by Rwandan armed forces and their militias
------------------------------
ACTE D'ACCUSATION ESPAGNOL de l'Audience nationale du 6 février 2008 accusant, notamment, de génocide 40 militaires rwandais et requérant contre eux un mandat d'arrêt international
SPANISH original version   -   Parmi les 40 militaires rwandais, dont 11 généraux, que la justice espagnole poursuit pour "génocide", "crimes contre l'humanité" et/ou "terrorisme", plusieurs ont servis au Darfour, région de l'ouest du Soudan en rébellion. Sans son immunité, l'actuel président du Rwanda, Paul Kagame, tomberait lui-même sous le coup de la compétence universelle que l'Espagne reconnaît à ses tribunaux pour certains délits graves.
------------------------------
* SUPPORT THE CONGOLESE PEOPLEAGAINST COLONIZATION OF KIVU BY RWANDAN ARMED FORCES AND THEIR MILITIA. SIGN A PETITION REQUESTING THE US DEPARTMENT OF STATE TO IMMEDIATELY IMPLEMENT A LAW PASSED IN 2006
THANK YOU IN ADVANCE FOR YOUR HELP IN THE DISTRIBUTION OF THE ATTACHED DOCUMENT AND FOR YOUR SIGNATURE OFF THE PETITION
* SOUTENEZ LE PEUPLE CONGOLAIS CONTRE LA COLONISATION DU KIVU PAR LES FORCES ARMEES RWANDAISES ET LEURS MILICES. SIGNEZ LA PETITION DEMANDANT AU DEPARTEMENT D'ETAT AMERICAIN L'APPLICATION IMMEDIATE D'UNE LOI VOTEE EN 2006
D'AVANCE UN GRAND MERCI POUR VOTRE AIDE A LA DIFFUSION DE CE DOCUMENT ET POUR VOTRE SIGNATURE DE LA PETITION
------------------------------------------------------------
Great Lakes of Africa Coalition Calls for U.S. Action to End Instability in the Democratic Republic of Congo

A United Nations Group of Experts report has documented the Rwandan government's support for rebel groups inside the Congo. Various media have reported that the United States Mission to the United Nations, headed by Ambassador Susan Rice had first attempted to block the report and after pressure has subsequently agreed to allow the publishing of the Group of Experts report. Reuters states that "the (UN) experts have implicated several high-ranking Rwandan officials who are directly involved." The U.N. material has been "verified by five separate sources," identifying Rwandan "officials supporting M23 as Defense Minister James Kaberebe; chief of defense staff Charles Kayonga; and General Jacques Nziza, a military adviser to Kagame." Kaberebe, according to this source, was "in constant contact with M23." In spite of the abundance of evidence demonstrating Rwanda's support of war criminals in the Congo, Secretary of State Hillary Clinton and the U.S. State Department refuses to hold Rwanda to account in spite of a U.S. Law that calls for withholding of aid to countries that destabilize the Congo.

Atrocities continue to mount in the Democratic Republic of Congo, where over 200,000 people have been displaced from their homes in the last three months as a result of attacks by rebel groups M23 and the National Congress for the Defense of the People (CNDP). Support of the M23 militia is only the most recent example of Rwanda underwriting rebellions that continue to devastate Congolese communities; this is the latest of many documented instances of such support. Worth noting are previous rebellions of the Alliance of Democratic Forces for the Liberation of Congo-Zaire (AFDL) in 1996, the Rally for Congolese Democracy (RCD) in 1998 and the National Congress for the Defense of the People (CNDP) in 2006. It is telling that former members of the RCD like renegade general Laurent Nkunda formed the CNDP and that, today, former members of the CNDP and RCD, including indicted war criminal Bosco Ntaganda, are members of the M23 rebellion. These rebellions are not separate, internal rebellions as they are often reported, but are all related recurrences of foreign intervention by the Rwandan government.

According the United Nations High Commissioner for Human Rights, Navy Pillay, "The leaders of the M23 figure among the worst perpetrators of human rights violations in the DRC, or in the world for that matter, and many of them have appalling track records including allegations of involvement in mass rape, and of responsibility for massacres and for the recruitment and use of children."

While President Obama has long recognized that the DRC has been destabilized by neighboring countries, his administration has yet to get tough on those fueling the cycles of violence. The need to hold the DRC's neighbors accountable was part of the only law he sponsored as a senator in 2006: PL109-456. Section 105 of that law gives power to the US Secretary of State to withhold aid from neighboring countries deemed to destabilize the Congo. US Secretary of State, Hillary Clinton co-sponsored this law.

This legislation has been on the books for 6 years, but has yet to be fully implemented. The recent flood of evidence pointing to Rwanda's military aggression in the Congo calls for an enforcement of this law. In the United Kingdom, more than 20 members of parliament have joined the call to suspend financial support to Rwanda in light of the content in the UN report implicating Rwanda in supporting rebels in the Congo. In accordance with its statutes, the US government should withhold any military, bilateral and multilateral budgetary aid until Rwanda permanently ceases its support of rebels in the DRC.

Given the Obama administration's mass atrocities prevention directive, current violence in the Kivu provinces of the DRC tests the US government's political will to fulfill its promises and enforce its laws. Will the administration recognize the atrocities in eastern DRC and use the law Obama wrote to hold destabilizing parties responsible? Historically, economic sanctions have proven effective in curtailing Rwandan aggressions across the border. In late 2008, Sweden and the Netherlands suspended aid to Rwanda after evidence surfaced showing Rwanda's support of the CNDP rebel group.

The CNDP rebellion, parent to the M23 rebellion currently led by the International Criminal Court (ICC) indicted war criminal Bosco "The Terminator" Ntaganda, had been devastating eastern Congo, causing thousands of deaths and displacing over three hundred thousand people from their homes. As soon as aid was withdrawn, Rwanda arrested General Laurent Nkunda. With a law on the books requiring that the United States respond as Sweden and the Netherlands did, and as the second biggest donor to Rwanda providing nearly $200 million in aid annually, the US has the power to help stabilize the region or continue to underwrite those who are destabilizing it. In its position, the US has both tremendous leverage and responsibility to take action.

The international community failed Rwanda in 1994 when it did little to respond and help prevent genocide, and nearly a million Rwandans were slaughtered within three months. Aftershocks from that tragedy have been reverberating through the region ever since. Though Rwanda has stabilized significantly, it is still a time to respond to mass atrocity in the region, as more than six million civilians have perished in Congo since 1996, Rwanda's first documented invasion. The United States government must do its best to foster peace and reconciliation in the whole region, not just in Rwanda. This means not merely giving aid but doing due diligence; the best hope for a speedy end to the atrocities is for donor nations to begin withholding aid from governments who perpetrate instability in the region.

Please join the Great Lakes of Africa Coalition in urging the US government to take swift and decisive action in Congo. Call on Secretary of State Hillary Rodham Clinton, to help end the impunity in the Congo by enforcing Section 105 of Public Law 109-456. http://www.change.org/petitions/secretary-of-state-hillary-clinton-help-end-the-conflict-in-the-congo

Signatories:

 
Institute for Policy Studies, Foreign Policy in Focus
Africa Faith and Justice Network
Africa Action
African Great Lakes Action Network
Mobilization For Justice and Peace
Shalupe Foundation
Friends of the Congo