UK/Rwanda : How Andrew Mitchell fawned over Paul Kagame a genocidal African dictator, before handing him £16m of YOUR money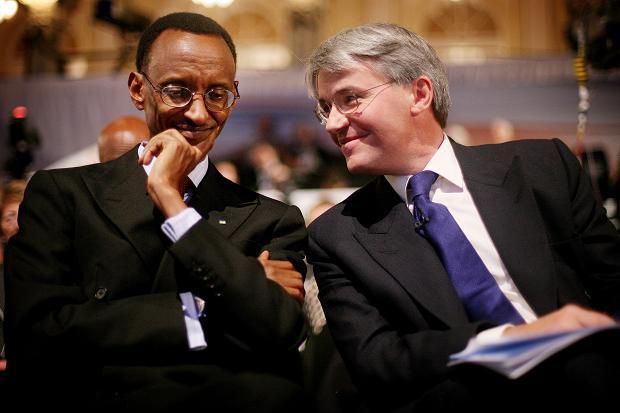 Senior members of his own party are now calling on him to quit over his alleged use of the word 'plebs'

Widespread incredulity over his decision to hand £16 million to President Paul Kagame

Mitchell became close to Rwandan president after the Tories jumped on the foreign aid bandwagon before the last election

British politician demonstrated 'monumental naivety' by falling for the African's ingratiating personal charm offensive.

 
By Paul Scott and Andrew Malone for the Daily Mail
Amid the stifling equatorial heat of an African afternoon, the incessant hum of the city traffic was interrupted by that most English of sounds — the dull thud of leather on willow.
Seated on the boundary in this unlikely cricketing venue was the bespectacled figure of Cabinet Minister Andrew Mitchell, intently watching the progress of his handpicked team of Tories against a local XI.
With a batting style hardly likely to trouble the scorers, Mitchell, wisely, was never at the crease for this annual encounter which, in the seven years it has been played, has invariably led to an embarrassing defeat for his visiting team. It is true that until recently he had revelled in the self-appointed role of umpire.
But then some 'dodgy decisions' saw him relegated to watching from the sidelines at the Kicukiro Oval in the Rwandan capital Kigali.
It seems an apt metaphor for Mitchell's political career in recent weeks.
So toxic has the Chief Whip's mere presence become that he stayed away from the Conservative conference this week in case he tainted the party's reputation still further.
The truth is that Mitchell is fast becoming little more than a dead man walking.
Senior members of his own party are now calling on him to quit over his alleged use of the word 'plebs' when launching a foul-mouthed tirade against police officers who refused to allow him through the Downing Street gates on his bicycle last month.
On top of this is the widespread incredulity over his unilateral decision on the last day in his previous role as International Development Secretary to hand £16 million of British taxpayers' money to the brutal dictator of Rwanda, President Paul Kagame, reversing his own decision in July to freeze all aid payments to the Kagame regime. Previous
Perhaps it never dawned on Mitchell as he was watching that game of cricket this summer that a well-struck 'six' could easily land inside the forbiddingly high walls of the Kicukiro Detention Centre, where Kagame's opponents are held and tortured.
By day all is quiet at the notorious jail. It is when darkness falls that the beatings begin. Guards, some as young as 16, and armed with assault rifles, take turns to dish out summary punishment to inmates — many of whom have yet to face any formal charges.
(This week, an Amnesty International report identified a series of unlawful detentions and torture, including electric shocks, which it says took place in Rwanda.)
Senior members of his own party are now calling on Andrew Mitchell to quit over his alleged use of the word 'plebs' when launching a foul-mouthed tirade against police officers last month
A short hop across the valley from the detention centre is the luxurious Serena Hotel, where Westerners sip cocktails and waiters navigate tables bearing trays of gourmet food, while provocatively dressed local prostitutes mill around at the bar.
Set in its own private grounds and surrounded by lush banana trees, the five-star, £186-a-night hotel became a home from home for Andrew Mitchell on his many trips to visit his despotic friend Kagame over recent years.
Were it not for the drone of tree frogs around the palm-fringed pool, it might be possible to hear the muffled cries of the prisoners.
But it is not just the locals who fall foul of Kagame's regime that have reason to dread the jail. In a chilling testimony this week, a respected American lawyer and academic told how he was thrown into Kicukiro's cells after travelling to Rwanda to represent the leader of a rival political party who was imprisoned by Kagame in the run-up to rigged elections in 2010.
Professor Peter Erlinder said former soldier Kagame also made plans for him to 'disappear' and later sent his henchmen to intimidate him even when he was back home in the U.S.
Such accounts — and we'll reveal more of the professor's testimonies later — are just the tip of the iceberg. There is evidence of the cold-blooded killing of Kagame's rivals, of mass rape and torture by his forces, and his support for a bloodthirsty rebel warlord in the neighbouring Democratic Republic of Congo.
We also learned of the lavish lifestyle Kagame enjoys thanks to the British aid payments of £83 million a year that Mitchell sanctioned after becoming International Development Secretary following the 2010 General Election.
This week, the vice-president of the opposition United Democratic Forces party said: 'The money given by the UK should be stopped. It is being used to run the army and fund the campaign in Congo. 
In a country without a democratic system, it is not difficult to use the money how you want. That is why the money is being used to kill people in Congo.'
It is a partisan view, naturally, but it serves to heighten concerns about misuse of British taxpayers' money.
No wonder 'Thrasher' Mitchell — as the millionaire former banker is known from his spell as a disciplinarian prefect at Rugby School — is hanging on to his job by his fingertips. But just what could have led him to risk his career by so publicly backing the corrupt Kagame with our money?
Kagame enjoys a lavish lifestyle thanks to British aid payments of £83m a year that Mitchell sanctioned after becoming International Development Secretary following the 2010 General Election
One thing that is undoubtedly true is that Mitchell has fallen victim to his own towering ego in refusing to admit his error of judgment in supporting Kagame. 
He became close to the president after the Tories jumped on the foreign aid bandwagon to detoxify their 'nasty party' image before the last election.
According to one of Kagame's own former lieutenants who sat in on their meetings, the British politician demonstrated monumental naivety by falling for the African's ingratiating personal charm offensive.
'Andrew Mitchell was a groupie,' former senior Rwandan government official David Himbara said this week. 'You could see his adoration for Kagame in his eyes. He reminded me of a young girl with a rock star.
'Kagame charmed him and he fell for it hook, line and sinker. Mitchell completely bought into the Kagame myth. The president made him feel important, sending four-wheel drive vehicles and guards to drive him around, and entertaining him at the Kigali State House.'
In 2006 Mitchell, then shadow minister for International Development, along with Tory leader David Cameron, founded the Umubano Project — which means 'friendship' — to send Tory volunteers to Rwanda for two weeks every summer to help build schools and train teachers.
Ever since, Mitchell, who proudly displayed Rwandan newspaper front pages of himself posing with Kagame on the wall of his Whitehall office, has been a regular visitor to Kigali.
The skulls of genocide victims in Rwanda as displayed at the Genocide Memorial in Rwanda
He even took his GP wife Sharon and 21-year-old daughter Rosie on some of the trips.  
Mitchell is said to have made at least eight visits over the past six years. And Kagame, an ardent self-publicist, has not been slow to trumpet their friendship, giving regular updates of their meetings, complete with beaming photographs of the two men, on his Twitter page.
Cameron and Mitchell were not the only Western politicians to fall for the cult of Kagame. Tony Blair, who shamefully described the dictator as a 'visionary leader', has also been a long-time cheerleader, placing a large team from his African charity at Kagame's disposal. Bill Clinton, too, was once a vocal supporter.
David Himbara, a former principal private secretary to the African leader, was one of the delegation Kagame took with him when he was invited by Cameron to speak at the 2007 Tory conference in Blackpool.
But like others who dared to speak up against the increasingly oppressive regime, Mr Himbara soon drew the ire of the 54-year-old tyrant.
He was forced to escape Rwanda in 2010 following personal threats from Kagame. Police in Johannesburg, where he now lives in exile, gave him round-the-clock armed protection after a Rwandan ex-general and fellow critic of Kagame was the victim of an assassination attempt in South Africa when he fled there.
Others have not been so lucky. Opposition leaders have been assassinated or jailed, a journalist critical of Kagame was shot in the face and killed and two others were given long prison sentences. And the tentacles of the regime reach far beyond Africa.
Mitchell was not the only Western politician to fall for Kagame's charms. Tony Blair described the dictator as a 'visionary leader' and has been a long-time cheerleader
Last year, British police issued warnings to two exiled Rwandans in the UK that their lives were at imminent risk from one of Kagame's hit squads who had flown here.
Meanwhile, Kagame has been accused by the UN of ordering the systematic genocide of tens of thousands of rival Hutu civilians in revenge for the massacre of up to 800,000 of his Tutsi people in three months of bloodshed during Rwanda's 1994 civil war.
The UN also accuses him of continuing to arm and fund bloodthirsty rebel leader Bosco Ntaganda, known as the 'Terminator', in the Democratic Republic of Congo, where Kagame is keen to get his hands on the country's rich supply of industrial diamonds, copper and zinc.
It was in protest against this that Britain, the biggest single donor of aid to Rwanda, joined the U.S., Germany and Holland in freezing aid to Kagame's regime three months ago.
Which makes it all the more astonishing that Mitchell reversed the decision the day before he moved from International Development to the Whips' Office last month — apparently against the advice of his own officials and those of the Foreign Office. He promised Kagame £16 million before the end of the year.
Such generous handouts have allowed Kagame, the country's leader since 2000, to live high on the hog while 60 per cent of his people are in poverty.
His luxuries include two South African-registered private Bombardier BD-700 Global Express jets, costing £30 million each.
Kagame spends weekdays with his wife and four children at his palace in Kigali, and weekends at his own farm set along the entire length of a nearby lake, where locals are barred from using the water as he and his cronies shatter the peace in powerful speedboats.
The UN also accuses Kagame of continuing to arm and fund bloodthirsty rebel leader Bosco Ntaganda, known as the 'Terminator', in the Democratic Republic of Congo
He is also a regular visitor to Jambo Beach, an exclusive resort regularly closed by Kagame's special forces so that His Excellency can enjoy himself undisturbed.
'Kagame is a thief,' ex-aide Mr Himbara said this week.
'He lives as the king of Rwanda. He likes expensive clothes and £7,000 Rolex watches. He has two Range Rovers and private jets.
'And he thrives on the support he got from the British government because it has made him seem legitimate to the rest of the world.'
But the truth is that, under cover of this supposed legitimacy, he behaves like a thug. Take, for example, the terrifying case of international human rights lawyer Professor Peter Erlinder.
In 2010, he accepted the brief of defending a high-profile female opposition leader in Rwanda, who had been locked up by Kagame in the run-up to the elections at which Kagame won a 93 per cent majority.
A few days after his arrival in Kigali, Professor Erlinder, a 62-year-old  lecturer from Minnesota who has appeared as a defence counsel at the UN and has written extensively on human rights abuses in Kigali, was arrested by half a dozen of Kagame's notorious secret police.
His nightmare began at the Kicukiro internment camp. Handcuffed, he was locked in a solitary confinement cell with a concrete floor and no bed or toilet, and denied food and water for the first 24 hours.
'It was not uncommon to see the other detainees being beaten by the guards, some of whom were teenagers and had AK-47 rifles,' he said.
'It crossed my mind more than once that this was something that could quite easily happen to me because basically I didn't exist to the world as long as I was being held there.'
Was Andrew Mitchell ignorant to the chilling stories about Kagame when he controversially signed off on renewing aid payments?
After two weeks in Kicukiro Professor Erlinder, who was denied vital heart and cholesterol medicine, was transferred to Kigali's tough Central Prison where his head was shaved and he was made to wear prison-issue pink pyjamas and refused food for two days.
Finally, after Professor Erlinder had spent three weeks in jail, Hillary  Clinton's U.S. State Department  persuaded Kagame's government to release him on medical grounds.
'My own impression is that they planned for me to disappear in Rwanda,' added Professor Erlinder. 'After my arrest, I finally got to speak to the American Embassy and was told they had been informed I had left the country.
'Later, when I went to the ticket desk at the airport, their records showed I had already flown out of Rwanda and gone to Kenya. This was untrue. It was a cover story for me just disappearing.'
Since then Professor Erlinder, who suffers from post-traumatic stress disorder as a result of his incarceration, claims Kagame stooges have  followed him around at his lectures in the U.S. to intimidate him.
Was Andrew Mitchell ignorant to such chilling stories when he controversially signed off on renewing those aid payments? If so, he was guilty of extreme naivety — not the best characteristic for a man trying to hang on to his job.
Either way, it surely makes his position as Chief Whip untenable.
________________________________________
Related article :
http://www.france-rwanda.info/2015/07/andrew-mitchell-a-british-blanc-menteur-without-borders-worse-than-tony-blair.html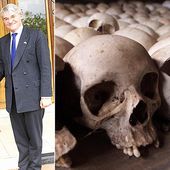 In thrall to a despot: Forget Plebgate, the real scandal is how Andrew Mitchell fawned over a genocidal African dictator before handing him £16m of YOUR money
Senior members of his own party are now calling on him to quit over his alleged use of the word 'plebs' Widespread incredulity over his decision to hand £16 million to President Paul Kagame Mitc...
http://www.dailymail.co.uk/news/article-2216992/Andrew-Mitchell-Following-Plebgatel-widespread-incredulity-decision-16m-Paul-Kagame.html
On the run from Rwandan assassins: 'Paul Kagame has no mercy. He is a killer' | The Times
The assassins came at night, when their target was alone, and knocked on his apartment door. They had been hunting him for weeks. Joel Mutabazi, an Israeli-trained commando, had fled his own ...
http://www.thetimes.co.uk/tto/news/world/africa/article3561297.ece
Pour être informé des derniers articles, inscrivez vous :