Article paru en janvier 2013 mais toujours d'actualité
The Case Against Rwanda's President Paul Kagame
Jan 14, 2013 12:00 AM EST
Why the celebrated Rwandan president really deserves an indictment.
When Rwandan-backed rebels recently took Goma, the biggest city in the eastern part of the Democratic Republic of the Congo, Paul Kagame had every reason to think the world would give him a pass. That, after all, has been the pattern for years.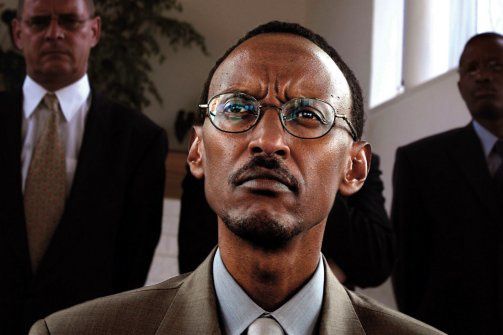 Does the celebrated Rwandan president really deserve an indictment? (Sven Torfinn/Panos Pictures)
Frequently lauded by people such as Bono, Tony Blair, and Pastor Rick, the Rwandan president enjoys some extraordinary backing in the West—support that is particularly remarkable given his alleged hand in ongoing regional conflicts believed to have killed more than 5 million people since the mid-'90s.
On the aid and awards circuit, Kagame is known as the man who led Rwanda from the ashes of the 1994 genocide—one of the late 20th century's greatest atrocities—to hope and prosperity: a land of fast growth and rare good economic governance with enviable advances in health care, education, and women's rights. Bestowing his foundation's Global Citizen Award on Kagame three years ago, Bill Clinton said: "From crisis, President Kagame has forged a strong, unified, and growing nation with the potential to become a model for the rest of Africa and the world."
But that model narrative seems to be shifting in the aftermath of the Goma takeover. After a United Nations report found that Rwanda created and commands the rebel group known as M23, important European friends such as Britain and Belgium partially suspended aid donations to Rwanda, and President Obama called Kagame to warn him against any continued military adventurism.
Leading observers say the reevaluation of Kagame and his legacy is long overdue. Filip Reyntjens, a Belgian scholar whom many consider the world's foremost expert on Rwanda, describes Kagame as "probably the worst war criminal in office today." In an interview, Reyntjens told me that Kagame's crimes rank with those perpetrated by former Iraqi president Saddam Hussein or Sudanese leader Omar al-Bashir, who is wanted by the International Criminal Court on charges of genocide, war crimes, and crimes against humanity.
Washington and London have long supported Kagame as a bulwark of stability in a volatile region. But a recent U.N. report accused his government of instigating trouble across the border in the Democratic Republic of the Congo. Meanwhile, specialists in African affairs say a regime like Kagame's, an ethnic dictatorship built along unusually narrow lines, represents a political dead end. And international human-rights organizations, including Human Rights Watch, have raised serious questions about violence committed against journalists and opposition figures. Kagame has generally been dismissive of such accusations of abuse.
Tall, gaunt, and almost professorial in manner, Kagame cuts an unusual figure for a former African guerrilla leader. His rise to power began in 1990, when as head of the Rwandan Patriotic Front, an exiled movement made up primarily of Tutsis, he launched a war to take over his native country from bases in neighboring Uganda.
Four years later, the course of history took a dramatic turn: on April 6, 1994, an airplane carrying Rwanda's president, Juvénal Habyarimana, an ethnic Hutu, was mysteriously shot down on its approach to the capital, Kigali, unleashing the murder spree that became known as the Rwandan genocide. In the space of 100 days, about 800,000 people—most of them members of the Tutsi minority—were killed at the instigation of Hutu extremists. As Kagame and his army gained control of the country, ending the genocide, the Hutu extremists, along with hundreds of thousands of ordinary people, fled to neighboring states, in particular Zaire, as it was then known.
Pasteur Bizimungu, a Hutu, was named president in what seemed an effort at providing representation for the roughly 84 percent Hutu majority in Rwanda's new national unity government. However, Kagame, a Tutsi and the nominal vice president, kept control of the Rwandan Army, becoming the country's de facto leader. And by 2000, after numerous cases of forced exiles, disappearances, and assassinations of politicians, Bizimungu resigned the presidency, bringing a definitive end to the illusion of ethnic balance in high office. (The government now prohibits the use of ethnic labels.)
Since then, former Rwandan officials say, almost every position of meaningful power in the country has been held by a Tutsi. In 2001, when Bizimungu began organizing a political party in order to run for president, it was outlawed on charges of being a radical Hutu organization. The following year, Bizimungu was arrested on charges of endangering the state, and later he was sentenced to 15 years in prison.
(Bizimungu, whom Amnesty International called a prisoner of conscience, was pardoned by Kagame in 2007, but the methods used to sideline him have been applied broadly ever since, with critics of the regime of all stripes being prosecuted for promoting "genocide ideology," which has become an all-purpose charge.)
http://www.thedailybeast.com/newsweek/2013/01/13/the-case-against-rwanda-s-president-paul-kagame.html