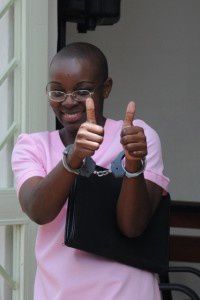 Imprisoned Rwandan opposition leader Victoire Ingabire, in a Kigali courtroom 
KPFAEvening News Anchor Cameron Jones:Rwanda's FDU-Inkingi opposition party is reporting that Rwandan police assaulted and/or arrested seventeen of its members last Monday, outside the Supreme Court appeals hearing of their imprisoned leader, Madame Victoire Ingabire. Ingabire attempted to run against incumbent Rwandan President Paul Kagame, in the 2010 election that many observers, including Human Rights Watch and Amnesty International, described as unfair or as window dressing for military dictatorship. Ingabire was not allowed to register her party or run against Kagame, and she has been incarcerated in Rwanda's 1930 maximum security prison since October 2010. KPFA's Ann Garrison has the story.
KPFA/Ann Garrison: Last October Victoire Ingabire was convicted and sentenced to eight years in prison. She has appealed the conviction, but prosecutors have at the same time appealed for a harsher sentence. They accuse Ingabire, an ethnic Hutu, of conspiring with members of a Hutu militia in the Democratic Republic of the Congo to destabilize Rwanda. They also accuse her of minimizing the 1994 Rwanda Genocide by asking that all victims, not only Tutsi but also Hutu, be remembered at the Kigali Genocide Memorial.    
In 2010, before her arrest, Ingabire told KPFA that she stands for true reconciliation between Rwanda's Hutu, Tutsi, and Twa ethnicities, and said that media were falsely characterizing her as an ethnic politician, and ignoring her central concern with poverty, and with HIV/AIDS:  
Victoire Ingabire (in 2010): Now I see all media. . .they say that I talk only about ethnicity, but that is not true. I talk also about the problem of poverty in our country. I talk about the problem of AIDS.  
KPFA: Scholars, including Colgate University Peace and Conflict Studies Professor Susan Thompson and Loyola University Political Science Professor Brian Endless, and Rwanda Genocide survivor and author Paul Rusesabagina have all written that Rwanda's much lauded economic success has rewarded only an urban elite and left Rwanda's majority rural peasants in extreme poverty. And, they say, this success has been largely achieved by illegal extraction of neighboring D.R. Congo's vast mineral wealth.
KPFA spoke to Alice Muhirwa, the FDU-Inkingi Party Treasurer, in Rwanda, who said that she had been able to enter the Rwandan Supreme Courtroom for the appeals hearing on Monday, and that those arrested or beaten before they could enter had not been been demonstrating, but that Victoire Ingabire's supporters all wear name tags, bracelets, or pink ties, the color of Rwandan prison uniforms, to court, to demonstrate their support for her.
Alice Muhirwa: People, all supporters of Madame Ingabire Victoire, all the time have something showing that they are really supporting. Either we had pink ties, or some written thing, so it was not a kind of demonstration. We had some name tags and bracelets. I don't think that they arrested them because of those bracelets, because I was wearing one and I was inside the courtroom. It seems that they organized themselves just to . . . to intimidate or pressure against people who will try to come and support Madame Victoire.
KPFA: The Rwandan Supreme Court postponed the appeals of both prosecution and defense until April 16th. Amnesty International called on the court to allow an appeal that meets international fair trial standards and rectifies problems documented in their report Justice in Jeopardy: The first instance trial of Victoire Ingabire. ForPacifica, KPFA, and AfrobeatRadio, I'm Ann Garrison.