Tabu Butagira & Robert Muhereza – monitor.co.ug, October 31, 2013

http://www.monitor.co.ug/News/National/Police-boss-suspended-over-Kagame-guard/-/688334/2053998/-/99cvp7z/-/index.html

The police deputy CIID director in-charge of Crime Intelligence, Mr Joel Aguma, was last night suspended after he irregularly arrested and extradited to Rwanda Lt Joel Mutabazi, a former bodyguard to President Paul Kagame, long sought by Kigali.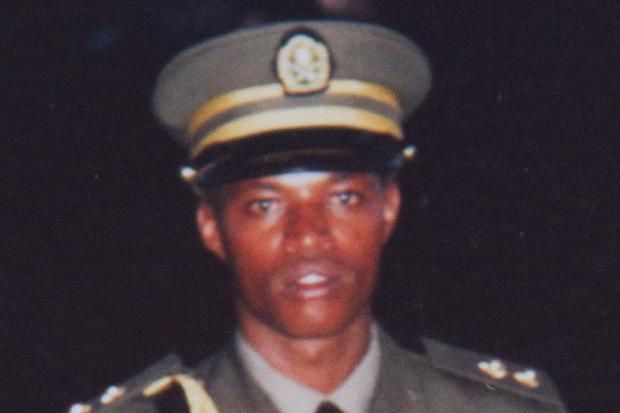 Photo : Lt Joel Mutabazi
Spokesperson Judith Nabakooba said whereas Mutabazi's arrest was imminent following a September warrant of arrest for him issued by the Rwandan government, Mr Aguma will be investigated over the "manner in which he handed him over to [Rwandan authorities]".

"He remains suspended until investigations are concluded into the matter," Ms Nabakooba said, quoting Inspector General of Police Kale Kayihura.

The Crime Intelligence boss returned last month from a one-year senior command and staff course at Rwanda's National Police College, and took UN refugee and Office of the Prime Minister officials by surprise when he coordinated Lt Mutabazi's extradition last Saturday.

Lt Mutabazi had already been offered an asylum and was awaiting outcome of his eligibility for refugee status, said state Refugees minister Musa Ecweru, who spent the better part of yesterday in crisis meetings with police officers over the matter.

The whereabouts of two Ugandans, one a Chieftaincy of Military intelligence operative at the rank of a Captain, arrested together with Lt Mutabazi remain unknown. According to Ms Nabakooba, the Israeli-trained commando was picked up after he escaped from the safe house provided to him by the UNHCR.

The Rwandan government, Ms Nabakooba said, in September this year, handed to them a warrant of arrest as proof that Lt Mutabazi was a wanted man escaping justice for a 2011 bank robbery in Kigali.

However, Mr Douglas Asiimwe, a senior Refugee Protection Officer in the Office of the Prime Minister, said Lt Mutabazi was "kidnapped" without their knowledge and the police have an explaining to do.
Mystery continues

Ms Karen Ringuett, the UNHCR external relations officer in Kampala, said "we do not comment on individual cases" when asked about the former bodyguard and why the refugee agency kept him in Uganda in spite of attempts on his life.

In 2010, unknown gunmen sprayed Lt Mutabazi's house in Kasangati, Wakiso District with bullets, but managed to escape. In August this year, he was kidnapped, forced into an unmarked car, but rescued en-route to Rwanda following intervention by high-level Ugandan authorities and strong UN condemnation.

The pressure forced Uganda Police to apologise and instead offered two VIPPU guards to Lt Mutabazi to assure the world it was concerned about his safety.

Our investigations show that the initial guards were suspiciously replaced a couple of days before the former Kagame bodyguard's latest abduction and surrender to Rwandan security. He is believed to have been arrested anywhere between heavily-guarded Sky Hotel in Naalya, a city suburb, and Masaka Road.