Rwanda: The Emperors have no clothes
http://www.ngonewsafrica.org/?p=5883
---
The emperors stand naked in front of the word being exposed for crim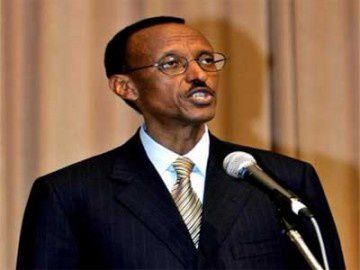 es against humanity. But who are these emperors?  In an article dated 5 January 2011 entitled, "US Firm gets contract to train Rwanda Soldiers," by the government-controlled Rwandan News Agency,  it is stated that, "The US State Department has granted a multi-million dollar contract to Northrop Grumman Corporation, a leading global security company to train Rwandan soldiers in peacekeeping operations, the firm announced."  In this capacity Northrop stated Tuesday that "the work to be performed involves peace support operations training, train-the-trainer courses for peacekeeping cadre and enhancing the capacity of all three countries (Rwanda, Kenya and Burundi) to participate in multinational peacekeeping operations."  Yet it seems that Northrop Gruman and the US Government are falling into a trap by failing to recognize how Kagame manipulates international peacekeeping to entrench his absolute rule that is responsible for gross human rights abuses in Rwanda and the Great Lakes Region.
In the latter part of 2010 the UN published its Mapping Report of the DRC.  The statements in this report should have been published to the international community years ago.  This report has come under much scrutiny by political leaders, journalists and members of society.
Of all the serious atrocities documented by the mapping team, however, the allegation that Rwandan troops and their Congolese allies may have committed genocide against Hutu refugees has stirred up the most controversy, triggering yet another wave of damning press reports against the Rwandan government.  This report was "leaked" and after decades of cataclysmic failures by the UN in the region it is hard to see how the international system of democratic relations will follow-through with these egregious violations against humanity. 
While the report was published with intentions of exposing injustices in the region and was conducted by credible reporting agencies by credible people, what has it done?  There have been absolutely no changes from this report and it has all but been swept into silence under the rug of diplomatic relations based on ongoing intimidation and blackmail from President Kagame to the international community (notably Washington and London) due to their inaction based on the 1994 Genocide and Rwanda's contribution to peacekeeping operations in Darfur. 
The Harvard Law record stated in an article published in October 2010 that the 556-page report describes 617 acts of violence allegedly committed by the armed forces of seven countries and several militias in the DRC between 1993 and 2003. A draft that was leaked to the press on August 26 triggered a massive media storm and strong protests from the countries whose troops stood accused.
In a phone interview with Dr. Theogene Rudasingwa regarding the UN Mapping Report he stated that "Kagame has been protected for too long."  Dr. Rudasingwa further stated that, Kagame has exposed himself by going too far and thus forcing those closest to him to break their silence to his tyrannical regime." Dr. Rudasingwa is currently awaiting sentencing in Rwanda due on January 14, 2011. He is facing 35 years in a Rwandan prison after being tried in absentia over politically motivated trumped up charges including terrorism, ethnic divisionism and defaming President Kagame.  This is a popular mode of operation for Kagame.  He is quite well known for his power play of killing and jailing political opponents, forcing people into exile and hunting them there. He has done this time and again since he took power. 
Exiled Political leader, John V Karuranga, President of the Rwanda Peoples Party stated in his response to the report, "We have chilling reports of how Rwandan refugees in many parts of the world are being deliberately subjected to horrendous daily attacks by RPF external operatives. There are substantiated evidences of assassinations, kidnappings, mysterious disappearance and harassments by the Rwandan government officials both inside and outside Rwanda."  Again, this fits with Kagame's destructive regimes, gross human rights abuses in Rwanda and The Democratic Republic of the Congo.
So, which is the emperor who stands before us with no clothes? The answer is not as obvious as it seems. There has been too much preventable suffering in the Great Lakes Region.  The international system does not seem to have interest in Africa in the area of conflict or Governments who rule in tyranny. The international community is more concerned with their investments in raw materials and for geo-strategic reasons.
Time and again, "reputable" international organizations have put everything in place for the eruption of bloodshed and then turned around to claim legitimacy and capacity to deescalate the resulting cycle of violence, often downplaying their own role in further worsening the situation. It is time to recognize that no genuine progress in the quest for sustainable peace and justice in the Great Lakes Region of Africa will be achieved as long as international justice remains a one-way street.
President Kagame continues to deny the media, civil society and political parties the freedom to function independently. His belligerent posture to neighboring countries is a source of regional and international destabilization.  It is time for the International allies (US and UK) to make a choice. They can continue to support and fund Kagame while he uses the Darfur Peace Keeping mission as a bargaining tool to blackmail the US and UK into silence about his gross human rights abuses and absolute rule. Alternatively, Kagame's allies and the rest of the international community could support Rwandans in their search for freedom in a peaceful manner. The first path will inevitably lead to endless bloodshed and instability in Rwanda and the Great Lakes region.  The latter is the only durable solution to freedom, security, and rule of law, democracy and prosperity.
By: Jennifer Fierberg, MSW
Pour être informé des derniers articles, inscrivez vous :