RWANDA PETITIONS AFRICAN UNION, U.N. OVER INDICTMENTS
By Gaaki Kigambo & Berna Namata – theeastafrican.co.ke, February 5, 2012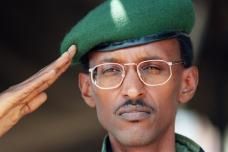 Rwanda has petitioned the African Union and the United Nations for its officials who were indicted by French and Spanish judges to be relieved of what it perceives as politically motivated judicial decisions.
In 2008, based on Bruguière's investigations, Spanish judge Andreu Merelles indicted 40 high-ranking government officials for committing crimes of genocide, crimes against humanity, war crimes and terrorism, between 1990 and 2002.
Whereas the French indictments now lie in a shambles after Bruguière's investigations were re-examined by his predecessor Marc Trévidic and found to have been false, they have not been officially withdrawn.
Similarly, while Rwanda was hoping Spain would follow France's cue and review its indictments since they were based, in large part, on Bruguière's investigations, Spain hasn't said a thing in the wake of Trévidic's findings, which exonerated the ruling RPF in the death of Habyarimana.
"If one country is able to put other countries under its jurisdiction, in that sense if justice is to be universal, the reverse should be true," Kagame argued. "We cannot have one-way traffic [in international law].
Rwanda's current leadership has been critical of international jurisdiction since the early aftermath of the 1994 genocide following the inception of the International Criminal Tribunal for Rwanda to try the masterminds of the genocide.
It did not hide its frustration with what it perceived as political interference and the snail's pace at which the Arusha-based court conducted its business.
While it has repeatedly demanded the court improves its work ethic, all such efforts have been in vain. But this is not all. In its backyard, Rwanda has squared off with mostly international NGOs that have criticised it for having a weak and ineffective judicial system incapable of delivering fair and impartial justice…"

http://www.theeastafrican.co.ke/news/Rwanda+petitions+AU+UN+over+indictments+/-/2558/1320578/-/w9s474/-/
Pour être informé des derniers articles, inscrivez vous :