PS IMBERAKURI LEADERS SUBJECTED TO PERSECUTION AND PHYSICAL INHUMAN TREATMENT IN THE HIGH SECURITY PRISON OF KIGALI
PRESS RELEASE N° 04/P.S.IMB/012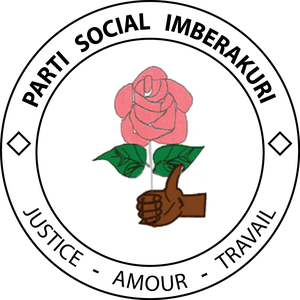 Reliable sources from the Administration of the High Security Prison of Kigali (1930) inform us that the leaders of P.S. IMBERAKURI incarcerated there continue to be subjected to persecution and physical inhuman treatment from the security organ operatives. These leaders include Me. Bernard NTAGANDA, President of the party, Mr. Eric NSHIMYUMUREMYI, President of the party in the District of KICUKIRO and Mr. Donatien MUKESHIMANA, in Charge of Protocol and Security.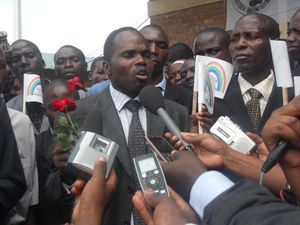 Photo Maître Bernard Ntaganda
The latest inhuman treatment act occurred on Saturday, February 18, 2012 when, Mrs. Mary GAHONZAYIRE, Deputy Commissioner General with Rwanda Correctional Services and Superintendent MUTEZINTARE Bertin, in charge of police in the District of NYARUGENGE, came early morning to the prison and ordered the inmates cited above to get out of their respective cells.
 After ordering them out during a heavy rain at that time, the two officers called in a score of police officers and other prison employees to enter the vacated cells and threw out all these inmates' properties into the rain including their trial files, bedding  and cleanliness items. It was after 4 hours into the rain (from 7:00 AM to 10:00 AM) that these P.S. IMBERAKURI leaders were allowed to get back inside.
 These inhuman treatment acts are occurring when Me. Bernard NTAGANDA was being ready to stand for his trial in appeal scheduled on Mars 5, 2012. There is no doubt that throwing in the rain his files to be used in this upcoming trial was a deliberate act aimed to destroy the evidences he has to submit to the court for his defense.
 Another area of concern is that since that day, the respective families have been denied access to their loved ones for daily meal deliveries, therefore worsening our party leaders' well-being conditions. Also, we recall that since Mr. Eric NSHIMYUMUREMYI suffered gun wounds from police on September 15, 2011, he has not been allowed to get medical treatment and the bullet that hit him still lodged in his chest.
 The P.S. IMBERAKURI party once again calls on every person of goodwill especially the human rights organizations to continue to raise the voice to denounce the ill treatments to the prisoners especially those incarcerated for their political opinions.
Done in Kigali, February 20, 2012
 BAKUNZIBAKE Alexis (Signed)
First Vice President, P.S. IMBERAKURI
Pour être informé des derniers articles, inscrivez vous :