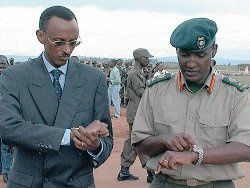 Photo : Gen Paul Kagame and Gen Kayumba Nyamwasa
Rwanda's plot to execute exiled general
By Jacques Pauw
2011-08-07
A would-be assassin revealed to City Press this week how he had been recruited and paid by Rwanda's military intelligence service to kill an exiled Rwandan general and his followers in Pretoria. Rwandan refugee Gustav Tuyishime told City Press that his main targets were former Rwandan army chief of staff General Kayumba Nyamwasa and two of his confidants.
Nyamwasa, once Rwandan president Paul Kagame's closest confidant, is now a key figure in Rwanda's exiled opposition movement.
The Rwandan embassy denies the allegations.
Nyamwasa is under witness protection after assassins allegedly sent by Kigali shot and wounded him in June last year.
Ten men, among them Rwandan, Tanzanian and Somali nationals, have been charged with attempted murder and conspiracy to commit murder. City Press has also established that South Africa's Crime Intelligence Unit and National Intelligence Agency have received information implicating individuals at the Rwandan embassy in Pretoria in the activities of Rwandan death squads.
Tuyishime said he had received $16 000 (R110 140) on May 15 this year to carry out the assassination.
He showed City Press SMSes from his handlers in Kigali inquiring how successful he had been in infiltrating Nyamwasa's inner circle. Tuyishime also received an email from Kigali with the address where Nyamwasa was being kept in witness protection. A picture of the house was attached. The address was accurate. Nyamwasa was moved to another safe house in June.
The renewed assassination efforts have increased tension between Rwanda and South Africa, with both countries withdrawing their respective ambassadors.
Nyamwasa fled to South Africa last year. He is a founding member of the Rwandan National Congress (RNC), which wants to end what it labels Kagame's "tyrannical dictatorship".
Tuyishime was exposed as a would-be assassin after he told a member of the RNC in June that he had been hired to shoot Nymawasa, his brother, Frank Ntwali, and senior RNC official Emile Rutagengwa. The RNC informed South Africa's Crime Intelligence Unit of the plot and it detained and questioned Tuyishime. He co-operated and has made several statements and provided evidence of the plot.
He now fears for his life and showed City Press messages ordering him to fly to Kenya, where he was to meet his handlers.
"I've taken their money and now they're going to kill me," said Tuyishime, who has lived in South Africa for more than 10 years and is a former soldier. Instead of buying an illegal gun and hiring hit men to assist him, Tuyishime bought a car and new clothes. "If they know what I've done, they'll kill me," he said. "Please help me."
-         City Press
http://www.citypress.co.za/International/News/Rwandas-plot-to-execute-exiled-general-20110806