Assassination in Africa: Inside the plots to kill Rwanda's dissidents
PRETORIA and BRUSSELS — The Globe and Mail
Published Friday, May. 02 2014, 3:19 PM EDT
Last updated Friday, May. 02 2014, 11:57 PM EDT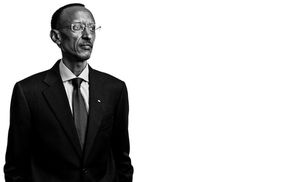 Much of the world regards President Paul Kagame as a hero. But 20 years after he helped to stop his country's brutal genocide, there are mounting allegations that he is silencing dissenters with violence.
A months-long, international inquiry by The Globe'sGeoffrey York and contributor Judi Rever has uncovered explosive testimonies from those who say they were recruited for assassinations – including an alleged recording of one job offer
 'The price is not a problem," says the man on the phone. "We will show our appreciation if things are beautifully done. They will be rewarded."
The tone of this offer, calm and confident, is so casual it could be about bringing on workers for a plumbing job. What is actually under discussion: $1-million for the hiring of contract killers to assassinate two of Rwandan President Paul Kagame's most hated enemies.
It is 2011, and the speaker is Colonel Dan Munyuza, Rwanda's director of military intelligence and a trusted ally of the Rwandan president. The man on the other end of the line is Robert Higiro, a former Rwandan army major living in exile.
But Mr. Higiro said he had no intention of hiring killers. He had been tapped for the assassinations months before, and informed the targets. They told him to play along with Col. Munyuza – and to tape the explosive conversations.
When one of the two targets was brutally killed on Dec. 31, and gunmen tried to kill the second, Mr. Higiro agreed to share those recordings with The Globe and Mail. Three independent sources – former army colleagues who also know Col. Munyuza personally – confirmed that the voice on tape is his. Two independent translators worked on transcribing the phone recordings from the original Kinyarwanda language.
The phone recordings are part of a months-long investigation by The Globe into murder plots organized by the Rwandan government. Rwandan exiles in both South Africa and Belgium – speaking in clandestine meetings in secure locations because of their fears of attack – gave detailed accounts of being recruited to assassinate critics of President Kagame.
Their evidence is the strongest yet to support what human rights groups and Rwandan exiles have suspected for years about the Rwandan government's involvement in attacks or planned attacks on dissidents, not only in South Africa but in Britain, Sweden, Belgium, Uganda, Kenya and Mozambique.
It also raises new questions about the world's moral stance on Rwanda. This year, the country marks the 20th anniversary of a shocking genocide. Because he helped stop the genocide, Mr. Kagame is hailed as a hero and his reborn country is touted as a model for African development – stable, business-oriented, fast-growing, environmentally clean and virtually free of pettty corruption. But as revelations of murder plots and assassinations mount, easy narratives of good overcoming evil become more and more difficult to sustain. The reality in Rwanda is far more complex. The mass killings of the 1990s left almost no one untainted.
Meanwhile, Mr. Kagame's enemies live in fear – or in hiding – after a wave of attacks against them.
And they are the lucky ones: On New Year's Eve, one of the Mr. Kagame's most-wanted, Rwandan dissident Patrick Karegeya, was brutally strangled to death in a Johannesburg hotel room. His killer or killers remain at large.
Rwanda has repeatedly denied any link to the attacks on dissidents abroad. Presented with the key allegations in this story, Vincent Karega, the Rwandan high commissioner to South Africa, said this week that the accounts by exiles are false and are motivated by a "political agenda."
If their stories are true, he said, they should go to the police and provide evidence for criminal charges. "These are stories that we can't rely on. They even sound a bit bizarre. It's a basic principle that everyone is innocent until proven guilty."
When The Globe requested an interview with Col. Munyuza, the high commission said it would be impossible because the colonel is not an official government spokesman.
The assassination plots matter because of their implications for a country that is crucial to Western policy in Central Africa. Although a nation of only about 12 million people, Rwanda has been a key player in the wars and rebellions that have killed millions of people in the Democratic Republic of Congo. Its role in perpetrating violence beyond its borders has often been ignored because of the worldwide sympathy for the 1994 genocide. Even reports from UN investigators accusing Mr. Kagame's army of mass slaughters in Congo in the 1990s have generally been brushed aside by the West, which continues to offer huge amounts of aid and political support to the country.
But many of Mr. Kagame's closest aides, who have inside knowledge of the violence in Central Africa, have defected and fled the country in recent years. These men, now dissidents, were members of Mr. Kagame's inner circle during some of the most significant events in African history: the presidential jet that was shot down in 1994, killing the presidents of Rwanda and Burundi and igniting the Rwandan genocide, for example, and the 2001 assassination of Laurent Kabila, the Rwandan-backed rebel who became Congo's president. There have been frequent allegations that Mr. Kagame's loyalists were involved in both events, and the exiled dissidents say they have evidence to support those suspicions.
Four high-profile dissidents formed the Rwanda National Congress in 2010. The organization's goal is "to bring political change to Rwanda." Mr. Kagame has denounced its leaders as "terrorists" and cancelled their Rwandan passports. In early 2011, they were tried in a military court in absentia and sentenced to 20 to 24 years of prison on charges of destabilizing public order, endangering state security and fuelling ethnic division.
The convictions are dubious. Rwanda's courts are not independent. Mr. Kagame dominates the country in an authoritarian system that permits no serious opposition. But he remains enraged at the RNC's challenge. The two RNC founders at the top of Mr. Kagame's most-wanted list – and who Mr. Higiro alleges he was paid to have murdered – were Mr. Kagame's former army chief, General Faustin Kayumba Nyamwasa, and his former intelligence chief, Colonel Karegeya.
Because both men were part of Mr. Kagame's regime, they have not escaped blame for atrocities in the 1990s. A Spanish court has accused Gen. Nyamwasa of war crimes because of the Rwandan Patriotic Front's involvement in the killing of civilians and refugees during that time. (The same court also found evidence against Mr. Kagame and his defence minister, but said Mr. Kagame had immunity as a head of state.) The general has also been asked to testify on the RPF's role in the presidential jet crash of 1994, which is still being investigated by an anti-terrorism inquiry in France.
But the complications of their own pasts also make men like Gen. Nyamwasa and other RNC leaders dangerous to Mr. Kagame. Gen. Nyamwasa's testimony, for example, could contain fresh revelations about who was responsible for the 1994 plane crash. He and other leaders also have extensive military connections that could allow them to incite a revolt against the Rwandan President. "These are people who were close to him, people who understand his way of operating," says Mr. Higiro. "Kayumba [Nyamwasa] formed the military. He knows everybody." NEXT
Pour être informé des derniers articles, inscrivez vous :