Rwanda's deal with Arsenal yet another example of dubious regimes banking on the moral apathy poisoning football
Arsenal this week signed a new sponsorship deal with central-east African nation Rwanda. Fans were taken aback by the news – but only because the badge on the sleeve looked ugly.
Back in 2012, during the first matutinal stirrings of what would later come to be known as the First Golden Age of Internet Banter, the hypersensitive tendrils of the viral football cottage industry got extremely excited when Paul Kagame, the president of Rwanda and an Arsenal fan, tweeted that the club could do with a change of coach.
Look, everyone! Even the president of Rwanda is Wenger Out! Lol! Rwanda, which is small and in Africa and therefore extremely funny! Please like, share, subscribe.
Six years on, with Wenger finally out, and new manager Unai Emery taking possession of the keys to the big coat cupboard and the password to the StatDNA database, it's hard not to wonder idly whether there was more to all this than initially met the eye. For the announcement of Wenger's replacement seemed to coincide just a little too neatly with another official Arsenal release, this time unveiling the club's new shirt-sleeve sponsor and official tourism partner as none other than Visit Rwanda.
With the exact details of the deal under wraps, the mischievous will be tempted to spot a connection between these two developments. Did Kagame, in fact, manage to get a lot more for his cash than simply a few logos on sleeves and post-match interview backdrops? Did he make it a condition of his financial largesse that Arsenal finally act on his tweet from six years ago and install meaningful regime change? Impossible to say, although you suspect the thousands of websites and social media accounts at the vanguard of the Nineteenth Golden Age of Internet Banter (things move pretty fast in these circles) might be tempted to have a good go nonetheless.
What could Unai Emery's Arsenal look like?
What we can say with certainty - and indeed, a fair amount of understatement - is that over the years Kagame is the sort of man who has become accustomed to getting his way. Last August the former rebel leader, who has been credited with leading Rwanda out of the tragic legacy of its 1994 genocide, was elected to a third term in office with 98.8 per cent of the popular vote. Which sounds pretty impressive until you consider that at the most recent Arsenal AGM, Josh Kroenke and Sir Chips Keswick were re-elected to the board with 99.7 per cent of the vote, so clearly Kagame still needs to step it up.
Even so, trying to shift Kagame from power - by, say, opposing him in a democratic election - has never been the surest path to a free and happy life. Just ask Diana Rwigara, the businesswoman who tried to do just that last year. Shortly after she announced her candidacy, nude photographs of her (faked, she claims) mysteriously began to appear on the internet. She was barred from entering the election, and then arrested, along with members of her family, on charges of inciting insurrection. Her trial began this week. But at least Rwigara is still around to offer her version of events. Many perceived enemies have been intimidated, exiled, or simply "disappeared" by the Kagame regime, one in which party and state and army have fused into a terrifyingly indistinguishable whole.
Accusations of torture are commonplace. According to Human Rights Watch, internees in the country's military detention centres are beaten, suffocated, electrocuted, burned with acid and threatened with execution. When a United Nations anti-torture panel visited the country last year, it was forced to abandon its trip, citing numerous "obstructions" by the Rwandan authorities. There are numerous reports of petty criminals being rounded up and summarily executed, of homeless people and street vendors being swept up and detained indefinitely for "rehabilitation".
Paul Kagame, the President of Rwanda (Getty )
In short: what exactly have Arsenal got themselves entangled with here? Naturally, the temptation is to identify some sort of executive synergy between these two mysterious regimes: the rebel who becomes the establishment, the figurehead who rules for years and years without any end in sight, the ruthless suppression of dissent. Kagame recently rewrote the country's constitution to essentially give himself special dispensation to stay in power unchallenged until 2034, which one suspects even the great Wenger would have balked at.
But let's not get overly trivial about this. It's easy to see what Rwanda are getting out of this deal: the endorsement of one of the world's most recognisable football clubs, another stage in its subtle repositioning as a feel-good tale and high-end wildlife tourism destination. The country's national cycling team, which qualified for the last Olympic Games and has produced a number of pro riders, has become a symbol for the country's resurgence. Last October Rwanda opened its first international cricket ground, paying for a plane-load of VIPs and British journalists to come over and behold how sport was helping to undo the country's bloody recent history.
And there is an extremely satisfying redemptive arc to Rwanda's economic boom over recent decades. Five-star hotels are going up all over the country's capital Kigali. The national airline now runs direct flights to London. Women's rights are flourishing, as are the health and education sectors. There are plenty of respects in which Rwanda is an exemplar of post-conflict reconstruction. And, of course, plenty of respects in which it isn't.
Arsenal's partnership with Rwanda poses plenty of questions (Getty)
The objective here isn't to single Arsenal out by any stretch. Quite the opposite, in fact. To pre-empt the inevitable whataboutery that will greet this article, virtually all of football, and virtually everyone in it, is in some way tainted by the stench of unwholesome regimes and their deep wells of lucre. Manchester City and Abu Dhabi. PSG and Qatar. The vast sums of Russian and Chinese investment in a number of European clubs. Uefa are taking Euro 2020 and next year's Europa League final to Azerbaijan, another country that the UN torture panel eventually gave up trying to investigate.
This is the point: we're all in this. Whenever we decide to wallow in football's delicious bucket of filth, we're all implicated, however obliquely. But the very least we can do is stay informed. To know. To see and to question. It was interesting to note that when Arsenal unveiled its new partner this week, its fans were almost unanimously opposed. Not because of any ethical qualms over Rwanda itself, over the tortures or the extrajudicial killings or the shambolic excuse for a democratic process, but because the badge on the sleeve looked ugly.
Rwanda and the Kagame regime are banking on this. They're betting that Arsenal, its fans, and followers of football more generally, don't quite care enough to talk about any of this. They're counting on your lack of curiosity. They're relying on your apathy. They're hoping your tribalism and growing antipathy to the media will far outweigh any vague twinges of unease. They're depending on you deciding that it's all just a bit depressing, a bit distant, and simply looking the other way. There's more than one way for you to prove them wrong.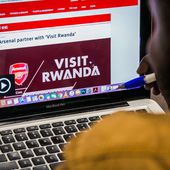 Liew: Arsenal's Rwanda deal yet another case of the moral apathy poisoning football
Back in 2012, during the first matutinal stirrings of what would later come to be known as the First Golden Age of Internet Banter, the hypersensitive tendrils of the viral football cottage industry
https://www.independent.co.uk/sport/football/european/arsenal-rwanda-sponsorship-news-deal-manchester-city-paris-saintgermain-money-modern-football-a8369121.html
Pour être informé des derniers articles, inscrivez vous :