WHY DISPROPORTIONATE KILLING OF INNOCENT CONGOLESE REFUGEES IN RWANDA?
The world, Congolese people, and mostly relatives of the Congolese refugees in Kiziba camp (Rwanda) have been shocked by the disproportionate response of Rwandese security forces against unarmed refugees. The shooting of live bullets took place yesterday 22 Feb 2018 nearby the United Nations High Commissions for Refugees (UNHCR) office in Karongi/Rwanda but also innocent people who have remained in the Kiziba camp were too shot. It tends to confirm that the Rwandese security services have had a hidden agenda as they even shot those who did not move from the refugee camp. Though difficult to access the accurate information, it is being reported that more than 20 refugees were brutally killed and countless wounded. The whereabouts of young children who were collecting water in the Lake Kivu remains a concern. Hundreds of children, women and men are still hopelessly running away while their safety is yet in danger.
While in the hand of the UNHCR and Rwandan Government, refugees were shot simply because they were demanding to humanly be treated. Besides the desperation of having spent 20 years in the camp, refugees were discriminated in terms of remuneration, access to health facilities, the wrap up of the process of resettlement in a third country, the interference of security services in the management of refugees representation but also living out of $ 6.7 per month per person (that is $0.22 per person per day). Sincerely, such living conditions are humiliating as it as insult to injuries! Nevertheless, sources within the refugee's representatives have confirmed that many efforts were deployed to find ways out but they never understood why things had gone worse. Therefore, they decided to peacefully protest in front of the UNHCR office within the region. It is in front of the UNHCR office that the tragedy took place.
We remind the world that out of 17000 refugees, roughly 13090 are women and children. Subsequent to the uncertain context we recommend:
- The Government of Rwanda to immediately stop the killing and chasing of refugees;
- The Rwandan Government must held accountable anyone who has individually or collectively engaged in shooting and killings;
- The United Nations, especially the UNHCR must take their responsibilities to protect the refugees under the 1951 Refugee Convention;
- The UNHCR needs to provide first aid and urgent support to survivors especially children, old people and wounded;
- The UNHCR and Rwanda Government have to find and establish a climate that appeases the immediate fear and working on a long term appropriate solutions;
- The Democratic Republic of Congo (DRC) Government have to take a step forward to defend its citizens.
- We recommend an international and independent inquiry to understand why this tragedy happened;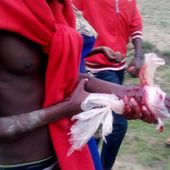 Filippo Grandi: UNHCR High Commissioner : Why Disproportionate Killing of Innocent Congolese refugees in Rwanda?
https://www.change.org/p/filippo-grandi-unhcr-high-commissioner-why-disproportionate-killing-of-innocent-congolese-refugees-in-rwanda
Pour être informé des derniers articles, inscrivez vous :