The International Refugee Rights Initiative's Refugee Legal Aid Newsletter (formerly the Fahamu Refugee Legal Aid Newsletter).
* * *
This newsletter follows recent developments in the interpretation of refugee law; case law precedents from different constituencies; reports and helpful resources for refugee legal aid providers; and stories of struggle and success in refugee legal aid work. It is a resource for legal aid providers primarily in the Global South where law journals and other resources are difficult to access. It complements the information portal
By the Rt. Revd John Osmers*, Assistant Anglican Bishop of Lusaka. As this issue is of concern to all those committed to the successful local integration of Angolan and Rwandan former refugees over the coming months and years, the author notes that he has sent a copy of this to the UK Minister of Home Affairs, Archbishop Mpundu and the leaders of the main church body, and Caritas Zambia, as well as to ambassadors of the five countries donating to the former refugee "Local Integration Programme".
The larger number of Rwandan former refugees in Zambia have lived for many years as subsistence farmers in the security of Meheba refugee settlement in the North Western Province. They total over 2,000 and support their families, speak the local language and integrate well with the local people.
Today they are threatened with eviction from Block G where they presently live by officers implementing the Local Integration Programme (LIP). On Friday 11 September the secretary to the Refugee Officer, together with the agricultural officer Mr Mweemba and others working on the LIP are alleged to have informed them that the settlement comes under UNHCR for purposes of former refugee local integration. They warned that Rwandan former refugees will only qualify for local integration if they possess Rwandan government passports.
Already officers facilitating former refugees' local integration in Meheba are allocating 10 hectare plots to some of the 2,000 Angolan former refugees and an equal number of Zambian farmers as are planned in UNHCR's "Strategic Framework for Local Integration" of January 2014. Officials are said to have displaced three Rwandan former refugee farmers, Abdul, Aaron Ruterana and Nkumbuye from the farming land where they work to maintain their families. Their land is reallocated to other nationals in the LIP, and includes banana plantations necessary at this time for food security. It can be possible that more Rwandan farmers are scheduled for removal in the coming days as their land is demarcated in the ongoing local integration programme. They are not being told where they are to move to. They know that the new planting season begins in Zambia in two months' time, and as subsistence farmers they and their families depend on farming for survival. They have no other means of support.
Donor governments generously donating to the local former refugee integration programme are Japan, the United States, Canada, Germany and Denmark. The "Strategic Framework for Local Integration" they are helping to implement has the laudable aim to promote fairness and social cohesion by a generous offer of land and an orderly settlement of Angolan and Rwandan former refugees together with Zambian farmers. Social cohesion is destroyed by deprivation of land because of administrative requirements which Rwandan former refugees cannot accept because of fears for their security.
Rwandan Hutu refugees in Zambia have consistently declined to take Rwandan government passports, either to return to Rwanda, or for their local integration in Zambia. Last year 1,609 Angolans returned home, but only four Rwandans. They say they do not see any fundamental and durable changes in their country towards greater democratic freedom or greater fairness in the justice system. They see no effective movement towards reconciliation between Hutu and Tutsi, but rather continuing systemic discrimination.
The requirement of the Rwandan government passport necessary for Zambian immigration permits is promoted by the RPF Tutsi-dominated Rwandan government. Passport applications require together with family details the names and addresses of six relations inside and outside Rwanda. Rwandan former refugees see this as a means to bring them under control as a potential threat of opposition in exile. They observe that Rwanda is still recognised as a refugee producing country for those who left after 31 December 1998. They maintain they have a well founded fear of persecution, that their refugee status was taken from them without their consent in June 2013, and they still require international protection.
Possessing Rwandan government passports will result in Rwandan former refugees becoming ordinary migrants. Renewal of passports can be declined, and they can be obliged to return to Rwanda already having the passport for their return. Local integration depending on the Rwandan government passport cannot give them the security they need. Church leaders listening to Rwandan former refugees ask that other legal means be found to enable them to be locally integrated in Zambia, including return to refugee status if need be, preferably with freedom of movement and employment.
It would be an act of justice that dispossessed Rwandan former refugee farmers should have their land restored, and no further dispossession take place until a secure future is established for both Angolan and Rwandan national groups. Former Rwandan refugees who have lived in Meheba settlement in Zambia for many years should not be forced to be displaced persons on the move, carrying their few possessions like millions of other refugees in the world today; this would not accord with Zambia's illustrious record of over five decades of refugee support.
Nor would it accord with UNHCR mandate to support refugees' welfare and security which sadly appears to be negated by UNHCR advising the removal of refugee status of Rwandans against their will, and now implementing local integration under conditions they find impossible to fulfill. If they are denied land as subsistence farmers through unjust so-called "legal administrative requirements" of Rwandan government passports, such land deprivation would be reminiscent of one of the worst features of apartheid South Africa which Zambia sacrificed so much to bring to an end.
Source
*Bishop John Osmers
When South Africa attained its liberation in the early 90s, not only the country jubilated but the whole world joined. But it was those who actively participated in the struggle against apartheid who celebrated the most. Leaders put their countries' agenda aside; ordinary people opened doors to their homes, while religious leaders stopped preaching the gospel, and started preaching revolution. One of those leaders is Bishop John Osmers. He was almost killed when the South African government sent him a parcel bomb while in Lesotho. Bishop Osmers still stays in Zambia taking care of refugees in that country. -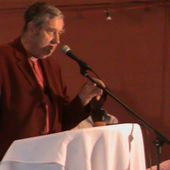 REFLECTION BY BISHOP JOHN OSMERS, NELSON MANDELA MEMORIAL SERVICE HOLY CROSS CATHEDRAL, LUSAKA, ZAMBIA - LA TRIBUNE FRANCO-RWANDAISE
11th December 2013 Your Excellencies, Political and Church leaders, all invited guests, Our Memorial Service today for Nelson Rolihlahla Mandela is one of countless Memorial Services held ...
http://www.france-rwanda.info/article-reflection-by-bishop-john-osmers-nelson-mandela-memorial-service-holy-cross-cathedral-lusaka-zamb-121618333.html