SOUTH AFRICA COP : RWANDA ASSASSINATION PLOT SUSPECT OFFERED POLICE $1M BRIBE AFTER AIRPORT ARREST
By ,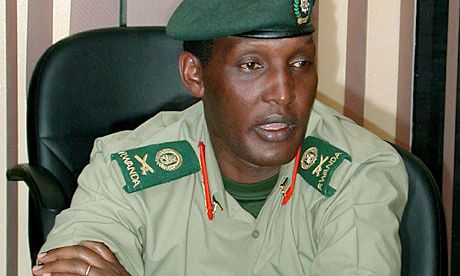 JOHANNESBURG — A South African police detective said Monday a Rwandan businessman offered police a $1 million bribe to free him after his arrest on suspicion of bankrolling an assassination attempt against an exiled dissident Rwandan general.
The trial of those accused of trying to kill Rwandan Lt. Gen. Faustin Kayumba Nyamwasa in a June 2010 attempted shooting has exposed a growing web of financial and political intrigue involving Rwanda and South Africa.
 Leonard Kanye of the Johannesburg Organized Crimes unit testified in court on Monday that he arrested Rwandan suspect Pascal Kanyandekwe at the Johannesburg airport soon after the shooting attempt.
He said the Rwandan offered the money while handcuffed in the back of a police car. His seized baggage contained two passports and photographs of two of five other suspects on trial for the attempted killing.
All six men have pleaded innocent.
The trial resumed Monday for two weeks of testimony after a lengthy series of hearings.
Kanye said Kanyandekwe arrived at the Johannesburg airport on July 2, 2010 from Rwanda. A police officer sent to the airport to find him called his mobile number and claimed to be a driver sent to pick him up.
In the unmarked police car, he was formally arrested and read his rights. Kanyandekwe became edgy and "said we mustn't arrest him. He would give us $1 million" if he was taken instead to the Johannesburg district of Kyalami, said Kanye, a 17-year veteran of the police service.
Prosecutor Shaun Abrahams said the contents of the Rwandan's luggage included a key "almost identical" to one recovered from another arrested Rwandan suspect, Amani Uriwani, an out-of-work truck driver allegedly recruited for his contacts with other Rwandans and African immigrants in South Africa.
Kayandekwe, 30, says he was setting up businesses in South Africa.
But Kanye said his two passports, one identifying him as a national of Belgium, Rwanda's former colonial ruler, and the other as a Rwandan, showed he came to South Africa for the first time just before the attempted shooting. He entered South Africa twice after the shooting and again flew from Rwanda to Johannesburg on the day of his arrest.
Photographs of his alleged accomplices in his luggage showed they were printed by a digital photo store in Burundi's capital of Bujumbura.
The Rwandan government has denied involvement in the assassination attempt outside the Johannesburg home of Nyamwasa, a former Rwandan military chief who has become a sharp critic of Rwandan President Paul Kagame since coming to South Africa in 2010.
But Rwandans in exile have accused Kagame of using his agents to hunt down his external foes.
Nyamwasa and dissident leaders accuse Kagame of crushing opponents and trampling on democracy after helping to end the genocide that left 500,000 people dead in 1994. Kagame was re-elected in 2010, months after Nyamwasa was shot.
Last year, Nyamwasa was among four former Kagame aides in exile in South Africa and the United States who were convicted in their absence by a Rwandan military court for disturbing public order, sectarianism, criminal conspiracy and threatening state security.
South African prosecutors have said key witnesses in the politically and diplomatically sensitive trial have sought police protection in South Africa because they fear Rwanda's government.
Testimony in the South African trial has hinted that shadowy figures were determined to kill Nyamwasa, trying more than once and offering large amounts of cash to draw in conspirators.
After Nyamwasa survived the shooting, prosecutors said the people pursuing him plotted to kill him in his South African hospital bed. But that case was dropped on lack of evidence.
Police in Britain last year warned some Rwandans living there that their lives were in danger after they criticized the government of the east African nation.
In Sweden, fears were also raised for the safety of a small community of Rwandans, some of whom run blogs and online newspapers that are critical of Kagame.
Kayandekwe, who has appeared in the Johannesburg court dressed in impeccable business suits, has hired top South African attorneys but has twice been refused bail.
His co-accused, two Rwandans and three Tanzanians, have appeared in T-shirts and cotton smocks and have not applied to be freed on bail since their arrests.
Copyright 2012 The Associated Press. All rights reserved. This material may not be published, broadcast, rewritten or redistributed.
http://www.washingtonpost.com/world/africa/s-africa-cop-rwanda-assassination-plot-suspect-offered-police-1m-bribe-after-airport-arrest/2012/03/19/gIQA9ypjMS_story.html?wpisrc=emailtoafriend
Pour être informé des derniers articles, inscrivez vous :