Rwanda taken aback by Juppe's reappointment
By James Karuhanga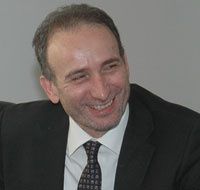 French Ambassador to Rwanda, Laurent Contini
KIGALI- The Minister of Foreign Affairs, Louise Mushikiwabo, has said that the appointment of Alain Juppe, as France's Foreign Affairs minister was a "bad surprise" for Rwanda.
Juppe held the same position from 1993-1995, and according to the findings of the Mucyo Commission – which investigated the French government in the 1994 Genocide against the Tutsi - that he strongly supported the forces that committed the Genocide.
Mushikiwabo noted that the renewed relations with France, since November 2009, are a product of honesty and trust from Presidents Kagame and Sarkozy, even with the understanding that there were still some difficult issues hanging.
"For the quality of this relationship to be preserved, Mr. Juppe will have to do some work, as a person who was deeply involved in the wrong done to the Rwandan people. Our guess is that he certainly will pick up from his predecessors and keep the line traced by his President," Mushikiwabo said.
"But on a personal level, his twisted Rwandan journey since 1994 has not deviated; we have been observing him, including his negative reaction to the normalization of relations between France and Rwanda."
From Reims in France, Alain Gauthier, the president of a Paris-based genocide survivors' advocacy group (CPCR) said Juppe's return to a position he held from 1993 to 1995, only evokes bad memories for the victims of the 1994 Genocide.
"The man is one of those who is accused of supporting a genocidal regime, has never felt the slightest remorse or raised questions for his actions and that of the government in which he participated," reads part of Gauthier's statement.
"The victims of the genocide against the Tutsi in Rwanda in 1994 may legitimately fear the return of such a man in power".
Gauthier wonders whether the rapprochement between France and Rwanda will continue.
He is particularly worried that efforts by Juppe's two predecessors to create, in France, a unit of specialist investigators for Genocide crimes, will be de-railed.
In Kigali, Evode Kalima, a Genocide survivor and lawmaker in the lower chamber of deputies, says Juppe's come back is a cause of concern.
"His return to that position causes worry because Alain Juppe is a cunning man, who is arrogant, unbending and vengeful," says Kalima.
The lawmaker says he fears Juppe might antagonize the Rwandan government instead of further enhancing good relations.
Meanwhile, Laurent Contini, the French ambassador to Rwanda, could not be reached for comment by press time, but in an interview with Contact fm, on Tuesday, he referred to Juppe as a changed man, who only serves the interests of the French President.
According to Contini, Rwandans should have no fear that relations will sour again since President Sarkozy is the boss, and he has made his mind clear on where Rwanda-France relations are headed.
The French envoy said things, in general, changed and the new politicians and government in his country desire to move forward in enhancing relations.
"The bottom line is that for our two countries to move on smoothly, it's up to him (Juppe)," Louise Mushikiwabo concluded.
Ends
Pour être informé des derniers articles, inscrivez vous :