UGANDA IS ATTACKING CONGO DRC

Ugandan Defense Forces and Mbusa Nyamwisi's Troops (RCD-K-ML)Seize the city of Kasindi
see full text below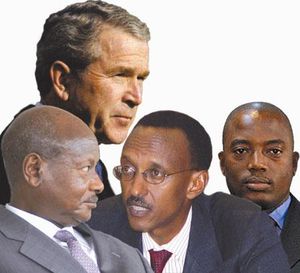 http://www.afroamerica.net/AfricaGL/2012/08/03/ugandan-defense-forces-and-mbusa-nyamwisis-troops-seize-kasindi/

Nord-Kivu : La Société civile dénonce la présence des militaires ougandais et rwandais au sein du M23
http://radiookapi.net/actualite/2012/07/26/rdc-la-societe-civile-du-nord-kivu-denonce-la-presence-des-militaires-ougandais-rwandais-au-sein-du-m23/

Le M23 se métamorphose en groupes armés congolais pour échapper à la CPI
http://benilubero.com/index.php?option=com_content&view=article&id=3206:le-m23-se-metamorphose-en-groupes-armes-congolais-pour-echapper-au-cpi&catid=15:editorial&Itemid=48

M23/ RCD-K-ML: Mbusa Nyamwisi de nouveau au banc des accusés - Chevaux de Troie de Kagame et Museveni en RDC
http://www.7sur7.cd/index.php?option=com_content&view=article&id=35464:-m23rcd-k-ml--mbusa-de-nouveau-au-banc-des-accuses-chevaux-de-troie-de-kagame-et-museveni-en-rdc&catid=24:le-phare

Nord-Kivu: des tracts ramassés à Butembo mettent la population en garde contre toute adhésion au M23
http://radiookapi.net/actualite/2012/08/02/nord-kivu-des-tracts-ramasses-butembo-mettent-la-population-en-garde-contre-toute-adhesion-au-m23/

Butembo : la radio Soleil fermée après la diffusion d'un enregistrement du porte-parole du M23
http://radiookapi.net/actualite/2012/08/05/butembo-la-radio-soleil-fermee-apres-la-diffusion-dun-enregistrement-du-porte-parole-du-m23/

Uganda Denies Supporting DR Congo Rebels (International Business Times)
http://tv.ibtimes.com/uganda-denies-supporting-dr-congo-rebels/7044.html

Museveni's conference : "no honest stakeholder should take this proposal seriously"
http://www.theeastafrican.co.ke/OpEd/comment/America+thinks+strategically++Rwanda+and+Uganda+waffle/-/434750/1453798/-/11d234fz/-/index.html

Kigali: why has Rwanda fallen out with Western allies?
http://www.monitor.co.ug/OpEd/Commentary/Why+has+Rwanda+fallen+out+with+Western+allies+/-/689364/1471252/-/12urnmtz/-/index.html

UNSC Press Statement on DRC
http://www.aeta-network.org/english-unsc-press-statement-on-drc?lang=en


La médiation belge dans le conflit des Grands lacs : alignement diplomatique ou stratégie du statu quo ?
http://lavoixdukasai.blogs.lalibre.be/archive/2012/08/03/la-mediation-belge-dans-le-conflit-des-grands-lacs.html


Ugandan Defense Forces and Mbusa Nyamwisi's Troops Seize Kasindi
by AfroAmerica Network on August 3, 2012
Troops of former Congolese Foreign Affairs Minister and current member of parliament Antipas Mbusa Nyamwisi supported by Ugandan Defense Forces have seized the border town and the post of Kasindi in Northeastern Democratic Republic of the Congo(DRC). The troops seized the town in the night of Thursday August 3, after the FARDC fled and abandoned their weapons and heavy equipment.
Kasindi is a major border post between Uganda and Eastern DRC and serves as the main transit hub between the port of Mombasa via Uganda and the DRC.
 
Antipas Mbusa Nyamwisi hails from the Nande tribe, the majority of the population in North-Kivu. He led the rebels known as RCD/K-ML in early 2000 and was allied with Ugandan Defense Forces. He entered the government of DRC President Joseph Kabila following the SunCity, South Africa, agreement between the DRC government and a multitude of Congolese rebels and warlords.

He fell out with Joseph Kabila when he tried to launch a peace process between the Rwandan government and the National Democratic Congress, a coalition of the Rwandan rebels of Rally for Unity and Democracy (RUD-Urunana) and Rally of the Rwandan People (RPR-Inkeragutabara), based in Eastern DRC.
 
Joseph Kabila, then a close ally of the Rwandan Dictator General Paul Kagame and a personal friend of the Rwandan Defense Minister, General James Kabarebe, was opposed to the peace process. He sidelined Mbusa Nyamwisi and chose to sign an agreement that led to military operations known as Umoja Wetu. The agreement provided for the DRC government to invite Rwandan troops into the DRC to hunt down Rwandan rebels of the RUD-Urunana and RPR-Inkeragutabara, including those who were already disarmed during the process initiated by Antipas Mbusa Nyamwisi, and those of the Democratic Forces of Liberation of Rwanda (FDLR).

Umoja Wetu led also to the divisions within Joseph Kabila's inner circle. On February 7, 2009 Rwandan Defense Forces attacked the camp of disarmed RUD and RPR soldiers and their dependents, among them children women and elderly who were awaiting repatriation to Rwanda and massacred a large number of them. The rest fled into the Congolese jungles.
 
The President of the Parliament Vital Kamerhe, a long time Joseph Kabila's confident, resigned protesting the presence of Rwanda Defense Forces on the Congolese soil and the massacre of the Rwandan refugees. He was followed by a number of other key members of parliament.

Both Mbusa Nyamwisi and Vital Kamerhe decided to challenge Joseph Kabila during the November 2011 presidential elections. They lost to Joseph Kabila. Independent observers qualified the elections as fraudulent and marred by corruption and irregularities.

Immediately after the elections, Joseph Kabila, to undercut Etienne Thsisekedi, the main opposition leader who is believed to have won the elections, entertained to create a "government of national unity" composed of Leon Kengo Wa Ndondo as Prime Minister and that included both Vital Kamerhe and Mbusa Nyamwisi (see our article here).

Then a tragedy stuck: Joseph Kabila's workhorse and the power behind the throne, Katumba Mwake, was killed in an accident. Katumba Mwake was the sponsor of the idea to appoint Leon Kengo Wa Ndondo. After Katumba Mwanke's death, Joseph Kabila changed his mind and appointed a government led by the people in his inner circle.

Unfortunately, Joseph Kabila under pressure from the International community was unable to fulfill the promises made to the Rwandan Dictator Paul Kagame (see ). Hence the birth of M23 rebels funded, trained and reinforced by Rwandan Defense Forces (RDF). At the same time, the frustrated Antipas Mbusa Nyamwisi left Kinshasa for South Africa and then Kampala, Uganda and started organizing his rebels, with the support of Ugandan Defense Forces.
 
Last month, Rwandan Defense Forces and Ugandan Defense Forces top military leaders held a meeting in Bunagana, a Congolese border town with Uganda and Rwanda. The meeting was attended by Antipas Mbusa Nyamwisi, Etienne Thisekedi's UDPS representatives in North Kivu and South Kivu, M23 rebels, and General Lafontaine's UPCP representatives. The objective of the meeting was to evaluate the military operations of the M23 rebels and formulate a plan of action.

During the meeting, it was decided to coordinate actions among all the rebels, to give the rebellion a Congolese image and to start planning for the after Joseph Kabila.

The meeting decided that General Lafontaine will be the overall military commander, with Colonel Mboneza as the Deputy Commander. Colonel Kahasha will be the Commander of Operations in South Kivu, Colonel Makenga the commander of operations from Jomba to Masisi and Walikale and Antipas Mbusa's rebels leader commanding the North east region including Beni, Bunia and Ituri. UDPS agreed to prepare and lead the uprising in Kinshasa when time comes.
 
Meanwhile, Colonel Makenga has been reporting to General Laurent Nkunda, who was ordered by General Paul Kagame to move from Kigali to the border town of Gisenyi in Rwanda, where he will be closer to the operations. The Rwandan Dictator General Paul Kagame does not trust Colonel Makenga and has finally convinced General Laurent Nkunda to take the de facto commanding role in M23 rebellion.
After the Bunagana meeting, a delegation was sent to Kampala to brief the Ugandan President Yoweri Museveni. According to sources that close to the delegation, they were received by Yoweri Museveni himself and his security advisers over last weekend. He advised them to hold on taking Goma and wait until the end of the visit to the region by the US Secretary of State Hillary Clinton.
 
After the Bunagana meeting, M23 rebels, Rwandan Defense Forces, and Colonel Kahasha's troops have been advancing on Masisi, Goma and Walikale. Ugandan Defense Forces and Mbusa Nyamwisi's rebels have made inroads in Beni's area. General Lafontaine and Colonel Mboneza have taken Rutshuru, Kiwandja, Mabenga, Mbwavinywa, Kasiki and are advancing on Lubero and Butembo.
 
Kinshasa appears to be confused. Sources in Kinshasa told AfroAmerica Network that the DRC government appears to be disoriented by the lack of direction and mixed messages from Joseph Kabila. On one side he appears to condemn the invasion of Rwandan and Ugandan Defense Forces. At the same time, he remains in close contact with the Rwandan Dictator Paul Kagame.
 
Recently, he made a trip to African Union summit where he held a closed door meeting with General Paul Kagame. After the meeting, Joseph Kabila decided to withdraw a motion asking the African Union to condemn Rwanda and to oppose the election of Rwanda to the United Nations Security Council.
 
©2012 AfroAmerica Network. All Rights Reserved.