President Jammeh calls for African reconciliation & peace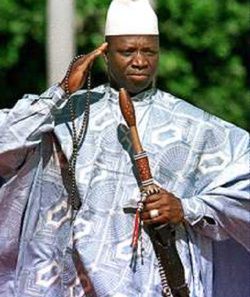 The Gambian leader has called for reconciliation and the establishment of permanent peace in the African continent. 
His Excellency Sheikh Professor Alhaji Dr Yahya Jammeh made these remarks Sunday afternoon at the AU Headquarters in Addis Ababa, Ethiopia, at the opening of the 21st Ordinary Session of the Assembly of Heads of State and Government.
He urged his colleagues to commit themselves to the attainment of peace and security throughout the continent in celebrating 50 years of the formation of the Organisation of African Unity (OAU) which transformed into the African Union (AU).
His words: "With regards to peace and security in Africa, I think we have committed ourselves to 2013 and 2063, that is 50 years. We all know development cannot take place without peace and stability and unless we commit ourselves to resolving all the problems that we have in the continent whatever we yearned for in the next 50 years would become an elusive dream."
The Gambian leader also proposed that since this is the 50th Anniversary of the OAU, they should declare 2013 to 2063 a decade for African reconciliation and establishment of permanent peace in Africa.
He also stressed that peace and security are solid constituents of development that Africa cannot afford to lose.
He further stated that Kenya should be left alone to address its problems since it was the Kenyans who invited the ICC to investigate the post-election crisis.
"It was the Kenyans that invited the ICC when they had the problem when they could have solved it in their own country, to which our brother Uhuru Kenyatta was indicted before becoming a president at the invitation of the then Kenyan government," President Jammeh said, while recalling the Libyan scenario, in which Saif Al-Islam was indicted in his own country when ICC wanted to intervene. .
"They have their own laws to try Saif Al Islam; why can't Kenya do the same thing and now that Uhuru became president if Kenyans resolve that [they] no longer want the ICC to solve the problem it is right for us to support the Kenyans' position," the Gambian leader told his colleagues.
This case of Kenya, according to him, is not in any way different from that of Libya, where the transitional government insisted the country has the laws to try Saif Al-Islam Gaddafi. This, the Gambian leader alleged, is  a double standard masterminded by leaders within the bloc.
He added: "So let us not say something today and tomorrow condemn it as if somebody did it. ICC wouldn't have gone to Kenya if they were not invited but now that Kenyans have resolved to solve the problem let us support them so that ICC can let the Kenyan process take place. In the first place they were invited and now that they are no longer invited they should withdraw but we cannot just condemn them [ICC] as if they just went to Kenya without being invited. Let us be realistic. Some of us here make statements to the gallery and go at the back and report people to the ICC. Some of the reports to the ICC came from this august body itself. Here we laugh for each other and when you give your back they stab you."
Author: by Musa Ndow in Addis Ababa, Ethiopia
http://observer.gm/africa/gambia/article/president-jammeh-calls-for-african-reconciliation-peace

Pour être informé des derniers articles, inscrivez vous :