MN LAWYER (PETER ERLINDER) JAILED IN RWANDA RUSHED TO HOSPITAL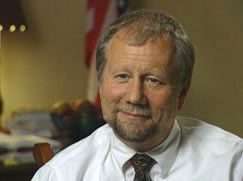 Peter Erlinder, a law professor at the William Mitchell College of Law who is jailed in Rwanda, was rushed to the hospital today.
 
Erlinder was arrested for violating Rwanda's laws for denying genocide. The St. Paul man is being interrogated by authorities for a crime his wife says is purely political.

Erlinder went to Rwanda to help Victoire Ingabire, an opposition candidate for president. When he arrived in Rwanda, Erlinder was detained.  His wife says she believes the government of the African country didn't want anyone trying to help unseat the current president. "Peter knew in the beginning he was taking a risk to get some harsh treatment over there," says Masako Usui.

Usui says her husband has a history of helping the oppressed and went to Rwanda to do just that.
She says, "I want to stop him from going to such a dangerous places but on the other hand I'm very happy to see him doing his own work." 
Now, Usui is more worried. Her husband, she says, suffers from high blood pressure and she's worried his health will only get worse.  
Erlinder's wife will travel to Washington this week with help from Senator Amy Klobuchar.  She's not sure when she'll get to see her husband again.  She's hoping to have a meeting with Secretary of State Hillary  Clinton to help bring her husband home.
Pour être informé des derniers articles, inscrivez vous :