Hervé Cheuzeville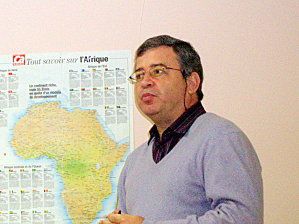 L'impunité en Afrique centrale doit cesser !
http://cheuzeville.net/?p=666

The Guardian -  UN report on Rwanda fuelling Congo conflict 'blocked by US'
http://www.guardian.co.uk/world/2012/jun/20/rwanda-congo-conflict-blocked-us

Human Rights Watch accuse Washington de bloquer la publication d'un rapport de l'ONU sur une rébellion
http://www.bbc.co.uk/afrique/region/2012/06/120621_rdc_us_report.shtml

Ngo Friends of the Congo : the United States block the UN report that documents Rwanda's support of rebel groups inside Congo.
See Reuters news: http://www.reuters.com/article/2012/06/19/us-rwanda-congo-idUSBRE85I18C20120619?utm_source=supporter_message&utm_medium=email

CPI: Charles Onana fait le bilan de neuf ans de l'ex-Procureur argentin Luis Moreno Ocampo
http://reveil-fm.com/index.php/2012/06/23/2665-cpi-charles-onana-fait-le-bilan-de-9-ans-de-l-ex-procureur-argentin-luis-moreno-ocampo
Commemorating More Than 18 years of Terrorism in Central Africa
April 6, 1994 - April 6, 2012
keith harmon snow
Revisions: 11 April 2012
Eighteen years after the historic '100 days of genocide' in Rwanda the United States Government has suddenly produced never-before-seen satellite images to support the genocide extradition trial of a former Rwandan now U.S. citizen in New Hampshire (USA). The existence of satellite imagery from 1994 would enable the 'international community' to further explore heretofore hidden facts about the double presidential assassinations of April 6 or massacres committed before, during and after 1994.  As the world commemorates the official Rwanda genocide story on the 18th anniversary of the Rwanda genocide the people of Central Africa continue to suffer under the brutal terrorism of the Kagame military regime.  Instead of celebrating, we should be asking: who are the real victims and who are the real criminals, and what really happened in Rwanda?
Continue reading PENTAGON PRODUCES SATELLITE PHOTOS OF 1994 RWANDA GENOCIDE.
--------------------