How Paul Kagame deliberately sacrificed the Tutsi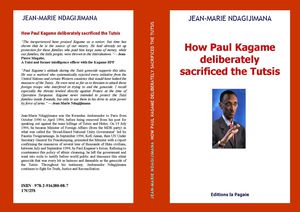 Un nouvel ouvrage sur le Rwanda :
"HOW PAUL  KAGAME DELIBERATELY SACRIFICED THE TUTSI"
Auteur :

 

Jean-M

 

arie Ndagijimana

Éditeur :

 

La Pagaie

Collection :

 

Ibukabose

Langue :

 

Anglais

Parution :

 

01/11/2010

Nombre de pages :

 

186
"Paul Kagame was a warlord who systematically rejected every initiative from the United Nations and certain Western countries that would have halted the massacre of the Tutsis. He even went so far as to threaten to attack those foreign troops who interfered in trying to end the genocide. I recall especially the threats leveled directly against France at the time of Operation Turquoise. 
Kagame never intended to protect the Tutsi families inside Rwanda, but only to use them in his drive to seize power by force of arms." 
Pour l'acquérir, cliquer ici
Pour être informé des derniers articles, inscrivez vous :