Eggs thrown during protest against award for Rwandan president Paul Kagame
Saturday 18th May 2013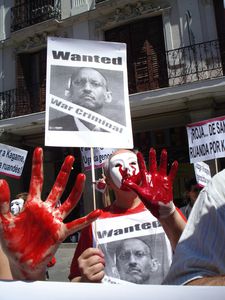 EGGS were thrown and two people arrested by police during the protest at the visit of Rwandan president Paul Kagame to Oxford today.
Mr Kagame gave a keynote speech at Said Business School to the Oxford Africa Business Conference, a student-led event organised by the Oxford Business Network for Africa.
About two dozen people were outside the business school, in Frideswide Square, protesting against what they say is Mr Kagame's record against human rights.
Oxford police commander Superintendent Christian Bunt said that eggs and other objects were thrown at Mr Kagame's convoy.
He added: "Overall the event went well.
"There was a very noisy and animated group of protesters who were intent on making their point known to President Kagame.
"Some objects were thrown, mainly eggs. These were largely aimed at the protection vehicles carrying the President."
Mr Bunt said two people were arrested but then released shortly afterwards.
There were about 25 police officers on duty, supported by two mounted officers on horses.
http://www.oxfordtimes.co.uk/news/10429141.Eggs_thrown_during_protest_against_award_for_Rwandan_president_Paul_Kagame/
Pour être informé des derniers articles, inscrivez vous :