ATTENTAT CONTRE LE GÉNÉRAL KAYUMBA : 6 SUSPECTS ARRÊTÉS EN AFRIQUE DU SUD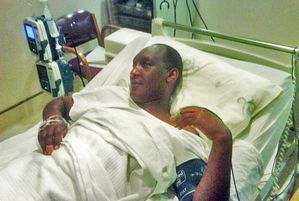 Par RFI
La police sud-africaine a arrêté 6 suspects après la tentative de meurtre contre l'ancien chef d'état-major rwandais, Faustin Kayumba Nyamwasa, devenu critique virulent du régime de son pays. Selon la femme de cet ancien général, il s'agit d'une tentative d'assassinat de la part des autorités rwandaises.
Six suspects ont été arrêtés ces dernières 24 heures dans différents lieux de Johannesburg. Tous sont inculpés pour tentative de meurtre. Ils devraient bientôt comparaître devant un tribunal sud-africain.
La police assure poursuivre maintenant son travail d'enquête. Pour l'instant, les inspecteurs ne souhaitent pas communiquer sur l'origine des suspects ou leurs motifs. D'autres arrestations pourraient survenir dans les prochains jours.
En attendant, le général Kayumba, toujours hospitalisé, a été placé sous protection des forces de l'ordre. Selon ses proches, le président Kagamé souhaite la mort de son ancien chef d'état-major et le gouvernement rwandais pourrait à nouveau tenter de l'éliminer.
A Kigali, la ministre des Affaires étrangères a réagi dimanche en rejetant toute implication dans cette affaire. Le général Kayumba a fui en Afrique du Sud en février dernier, après avoir été accusé d'actes terroristes par les autorités. La police, à Johannesburg, avait alors précisé ne pas avoir arrêté l'ex-militaire, actuellement demandeur d'asile, puisqu'il n'existe pas de traité d'extradition entre l'Afrique du Sud et le Rwanda.
***************************************************
Police have arrested six suspects after an exiled Rwandan general accused of grenade attacks in his homeland was shot in South Africa over the weekend, authorities said Monday.
By LESEGO MOTSHEGWA
Associated Press Writer
JOHANNESBURG (AP) - Police have arrested six suspects after an exiled Rwandan general accused of grenade attacks in his homeland was shot in South Africa over the weekend, authorities said Monday.
Lt. General Kayumba Nyamwasa and his wife were returning to the upscale gated community where they live in northern Johannesburg when a lone gunman fired on him Saturday. Rosette Nyamwasa said her husband was shot in the stomach and would recover.
Police spokesman Govindsamy Mariemuthoo would not say whether the suspects arrested were Rwandan, nor would he discuss possible motives in what he described as a murder attempt.
Nyamwasa's wife has accused Rwandan President Paul Kagame of being behind the shooting, a charge the Rwandan government denies.
"The Government of Rwanda does not condone violence, and we wish the family strength and serenity," said government spokeswoman Louise Mushikiwabo. "We trust in the ability of South African authorities to investigate the incident thoroughly."
Nyamwasa and Kagame were once allied but have fallen out, reportedly because Kagame sees his former military chief as a political rival. Nyamwasa came to South Africa earlier this year.
Rwandan officials have accused Nyamwasa of trying to destabilize their government. The Rwandan government says it has linked Nyamwasa to three grenade attacks in Rwanda's capital Feb. 19 that killed one person and wounded 30 others.
South African police said earlier this year they had not arrested Nyamwasa because they do not have an extradition treaty with Rwanda.
Rwandan opposition leader Victoire Ingabire, who wants to challenge Kagame in the Aug. 9 presidential election, said Saturday's shooting was a "planned assassination attempt."
"This incident is a nefarious conspiracy for disruption of peace in Rwanda, a country sinking deeply into a political and military crisis," Ingabire said in a statement. "The lack of political space, the arrest of opposition leaders, lawyers and senior military officers, the use of violence and all kind of intimidation of dissenting voices are obvious signs of a country on the brink of chaos."
Ingabire was arrested in April and charged with promoting a genocidal ideology. She was freed on bail but her passport was seized and she cannot leave Kigali. Critics of Kagame's government argue the ruling party has used the concept of genocide ideology to discredit detractors and defeat political opponents.
Hutu militias killed more than 500,000 ethnic Tutsis and moderate Hutus in the 1994 Rwandan genocide. Rwanda's current president, Paul Kagame, ended the killing when he led a Tutsi-dominated force into the country. Critics say his rule since then has been authoritarian but Kagame argues strict measures are necessary to prevent a repeat of the violence.
The U.S. State Department said in a March report on Rwanda that citizens' rights to change their government are "effectively restricted" and cited limits on freedoms of speech, press and judicial independence.
Nyamwasa's shooting is not the first time Rwanda has been accused of attempting to kill or killing a prominent Rwandan exile.
Former Rwandan Interior Minister Seth Sendashonga was killed in May 1998 in Nairobi, Kenya. His widow later testified that she believed Rwanda was behind her husband's killing. She claimed he had been set to testify before the U.N. International Criminal Tribunal for Rwanda, which is trying the suspected masterminds of the genocide.
A Kenyan judge acquitted the three suspects in Sendashonga' s killing, saying the prosecution failed to prove beyond reasonable doubt that they committed the crime. The judge went further to say that the Rwandan government's refusal to waive diplomatic immunity for some of its embassy officials suggested that there was a political motive behind the killing.
Pour être informé des derniers articles, inscrivez vous :