Investigation: Rwandan agents Smuggling cattle into Uganda using Boats on River Kagitumba by Admin Trumpet January 3, 2022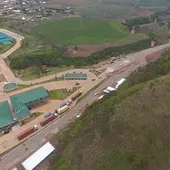 Investigation: Rwandan agents Smuggling cattle into Uganda using Boats on River Kagitumba
See more trending news on @ Phoenix Browser
Three years ago, Rwandan leader Paul Kagame closed border the nation's border with Uganda
Mr Kagame claimed that Uganda was interfering in Rwanda's internal affairs and also harbouring elements that intended to oust him from power.
He further alleged that a number of Rwandan nationals had been killed in while crossing into Uganda, an accusation he couldn't prove.
Contrary to Kigali's narrative, Uganda continued to welcome Rwandans who illegally entered Uganda through porous border as Rwandan security shoots, kills and detains a number of Uganda who attempt to cross into the country.
Whereas Kagame has not heeded to calls to reopen border, his government has been secretly ferrying and selling cattle into Uganda.
This investigative website has established that Rwandans escorted by soldiers would smuggle the cattle using boats on River Kagitumba through the border in Nyamirama hills in Ntugamo district.
"The cows would then be sold on Ugandan market through their agents," said a top security official.
The smuggling has been happening from the time Kagame closed the border until late last year when President Yoweri Museveni received intelligence about the development.
Towards last Christmas Museveni deployed UPDF in Ntungamo to arrest the smugglers and their agents in the neighbouring towns of Kabale, Mbarara and Rwampara.
In the operation led by a senior UPDF soldier at the rank of Brigadier (names withheld for security reasons) tasked the RDC David Kaboyo, the LC5 and also veterinary doctors in the district to be in the lockout.
In the briefing Museveni learnt that the smugglers who are guarded by RDF bring in the cattle at night on boats with silencers to be also to bypass border patrol.
"A few days to Christmas 80 cows were intercepted and their smugglers arrested," said a source.
Speaking to this website Ntungamo RDC David Kaboyo said its true Rwanda was illegally bringing cows into Uganda and this was identified using a huge network including Local Council leaders, DISOs and veterinary doctors.
"Those arrested have been taken to Court to face full arm of the law," he said.
He couldn't confirm is the smuggling had stopped.
SABOTAGE
A stop security official who interviewed about this matter but preferred not be named revealed that Rwanda government had long been sabotaging cattle keepers in Western Uganda.
"Rwanda has been working with elements in Uganda to kill our beef and milk market locally and internationally," he said.
He listed an example of a retired CPT Bisangwa of the director Virunga Dairy farms who used to supply milk products in Kigali but he was stopped.
This official said that Rwandan cattle after smuggling it into Uganda has been sold on a lower price so as to "kill our market which is has been also hard since Uganda has more cattle than them."
"Their actions can disorganize but they can't succeed."
Pour être informé des derniers articles, inscrivez vous :