Is Rwanda stirring rebellion in Burundi? (IRIN)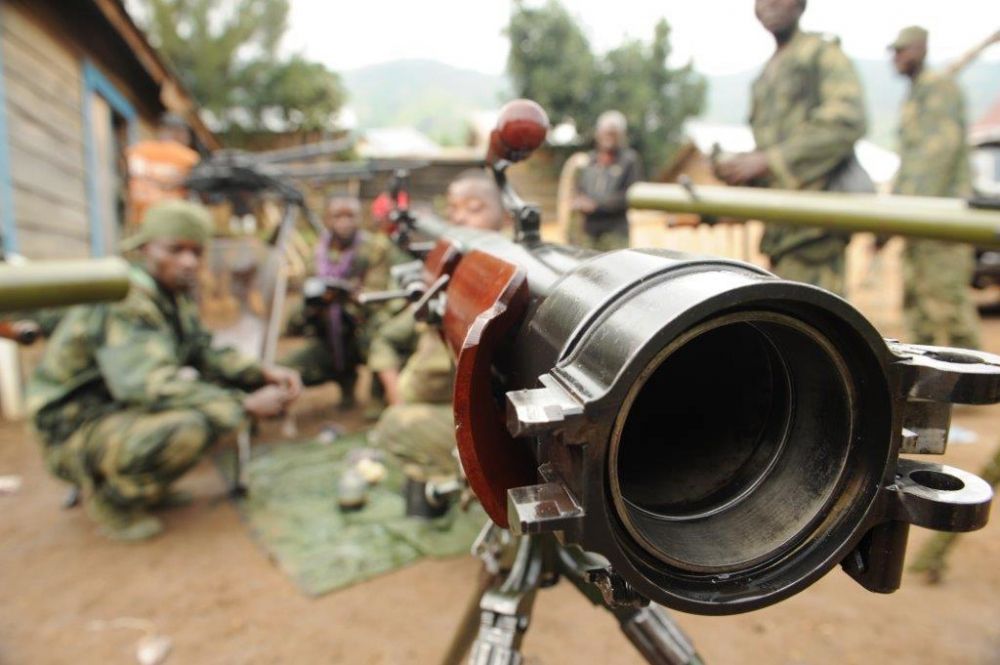 By Samuel Okiror

KAMPALA, 4 May 2016

The Democratic Republic of Congo accuses neighbouring Rwanda of recruiting former M23 rebels to help oust Burundian President Pierre Nkurunziza, adding a worrying international dimension to an already incendiary crisis.

Congolese government spokesman Lambert Mende Omalanga alleges that Rwanda has been paying ex-M23 fighters, exiled in Rwanda and Uganda, to join Burundian opposition forces and help topple the government in Bujumbura.

"We want these people [the ex-M23 rebels] back home. There are some wrong elements from Rwanda who are recruiting them to go and fight in Burundi. We have arrested some of them in North Kivu (a province in eastern Congo), and we shall prosecute them," Mende told IRIN.

"We can't accept any Congolese national participating in the destabilisation of peace and security in a neighbouring country," he said.

Nkurunziza and his officials have repeatedly accused Rwanda of recruiting and training refugees to overthrow his beleaguered government. A UN group of experts' report to the Security Council in February also pointed a finger at Kigali, this time for conscripting refugees from the Mahama camp in eastern Rwanda to join Burundi's armed opposition.

Rwanda vehemently rejects all the allegations.

"That is rubbish," the Rwandan ambassador to Uganda, Major-General Frank Mugambage, told IRIN. "It's the usual rhetoric and baseless allegations labelling Rwanda by Congo and others. There is no such a thing [happening]."

René Abandi, M23's former foreign minister, also denied the allegations. "All of that is political intoxication," he told IRIN. "They are looking for a scapegoat. Time will talk better than me."

An unaddressed problem

The M23 (March 23 Movement) has its roots in a largely Tutsi rebel group operating in North Kivu that was integrated into the Congolese national army in 2009. In 2012, units mutinied, citing the government's unwillingness to fully implement the peace deal, and the rebellion rapidly gained ground in eastern Congo, worsening an already dire humanitarian crisis.

Rwanda is believed to have provided direct military support to the M23 as a way of maintaining its influence in Congo. A UN group of experts' report in 2012 also accused Uganda of helping with troop reinforcements, weapons deliveries, technical assistance, joint planning, political advice and the facilitation of external relations.

But General Edward Katumba Wamala, chief of Uganda's defence forces, said Kampala would "definitely be against" any attempt to recruit ex-M23 combatants camped at the Bihanga military barracks in Uganda's western district of Ibanda.

"We don't want these people to become a regional armed problem," Wamala told IRIN. "We are appealing to the international community. Let them use their muscle to convince the Congolese government to implement the Nairobi Declarations and move these people off our territory."

Understanding armed group M23

The road ahead for the ICC in Burundi

Burundi power struggle outlasts diplomatic flurry

The Nairobi Declarations, signed in March 2013 between the Congolese government and the M23, ended hostilities in eastern Congo as the national army began to get the upper hand. It offered an amnesty and the demobilisation and reintegration of former rebels in exchange for the M23 renouncing violence.

But the amnesty has been extremely limited, and the repatriation of ex-M23 painfully slow. In January 2014, violence erupted in Bihanga when the former rebels protested against their return home, fearing their ill treatment in a country in which anti-Rwandan sentiment remains strong.

Is there any evidence?

While a pool of hardened former rebels remains in Rwanda and Uganda, concrete evidence of their remobilisation is difficult to pin down.

"I have only seen claims by the DRC government – who have their own interests – and claims that haven't been corroborated by independent sources, such as [those made by] Refugee International," Alex Fielding, senior analyst at Max Security Solutions, a geopolitical risk consulting firm, told IRIN.

But "M23 does not currently function as a coherent group that follows a hierarchical chain of command. So some lower-level ex-combatants may have been paid and recruited to join the Burundian insurgency," he said.

The failure of the disarmament, demobilisation and reintegration (DDR) programme, despite international support as a key provision of the Nairobi agreement, has increased regional insecurity. "[The lack of progress] remains a destabilising force generally, and a potential recruiting ground for other conflicts, such as the one in Burundi," said Fielding.

Jason Stearns, director of the Congo Research Group at New York University, is also concerned. "There is little sign that another large rebellion could be formed out of the remnants of the M23. But as elections approach in the Congo, and as the political crisis in Burundi deepens, there is always a danger that these officers could join new groups in the region," he told IRIN.

"The most important part of the M23 is the core of highly experienced senior officers," he said. "Their future is uncertain: their host countries refuse to arrest them on war crimes charges in the Congo, and authorities in Kinshasa are unlikely to [give them] amnesty."

Michael Boyce, a lawyer with Refugees International, said any reactivation of M23 would have a direct humanitarian cost.

"The fate of the former M23 combatants must be resolved, but that's just one element of the larger 2013 Peace, Security, and Cooperation Framework agreement for the Great Lakes – which, shamefully, has largely not been implemented," he told IRIN.

The PSCF, signed by 11 governments in 2013 in the Ethiopian capital, Addis Ababa, aims to "put an end to recurring cycles of violence" in the region.

"Especially now, with the region lurching back into crisis, the DRC and its neighbors must stop shirking their obligations under the PSCF. If they don't, innocent civilians will pay the price," said Boyce.

Rocky repatriation

The repatriation of former M23 fighters is an extremely sore point in regional relations. Only around 200 of the 1,377 ex-combatants in Uganda have returned home and are undergoing DDR.

"We want them repatriated back home. We have got a programme for them. But we don't know why our brothers in Uganda are still keeping them," said the Congolese government spokesman, Mende.

"We call upon our Ugandan counterparts to coordinate with our embassy in Kampala and our national commission [on DDR] to repatriate them back immediately."

Wamala, Uganda's defence chief, defends any delays. "We have no use for M23. We wanted them back in Congo yesterday. But they [the Congolese authorities] don't seem interested to take them, and at the same time we cannot bundle them on trucks and drive them across the border because international law doesn't allow it."

He added: "We have engaged everybody, MONUSCO [the UN peacekeeping mission in Congo], UN and Congolese themselves. We have tried to engage the UN [refugee agency UNHCR] to take them on as refugees, but they say these are not refugees but former combatants, so they can't take them."

Wamala said there was a financial as well as a political cost to sheltering the former rebels. "Unfortunately, we still have them in under our care and [it] is very expensive running, feeding them and looking after them. They are constraining our limited resources. They were not in our budget. Our good gesture is now turning into a burden."

What now?

Fielding said a host of problems stood in the way of the implementation of the Nairobi agreement – not least the unwelcome facts that Congo's DDR programme "has yet to become fully operational" and that UN-brokered repatriation efforts have failed because the M23 fear "torture and ill-treatment" at home.

Burundi's political crisis continues to claim lives and force civilians to flee since protests began a year ago over Nkurunziza's decision to stand for a third term in office. The conflict has included a failed coup attempt aimed at halting the disputed elections he won in July, and well-documented human rights abuses.

Nkurunziza has refused to meet with a broad-based opposition coalition, labelling all as terrorists. Peace talks, due to have begun this week with former Tanzanian president Benjamin Mpaka at the helm, have been postponed. In the absence of a political settlement, fears of all-out civil war grow.
Pour être informé des derniers articles, inscrivez vous :