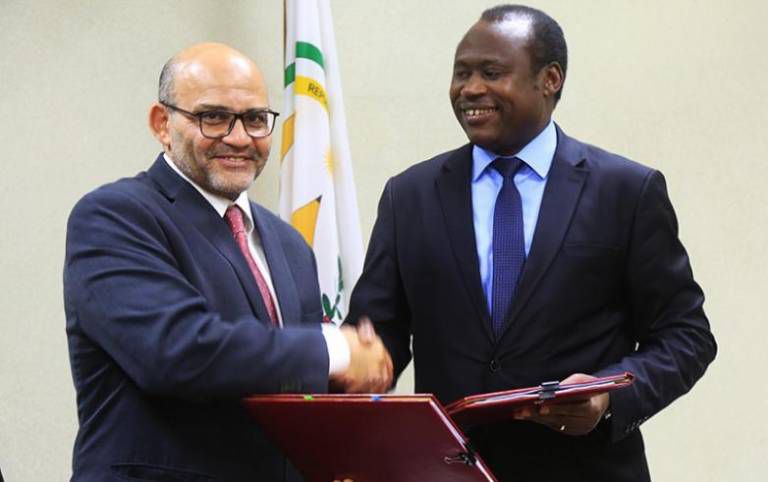 December 12, 2018: World Bank Country Manager Yasser El-Gammal (left) and Minister for Finance and Economic Planning Dr Uzziel Ndagijimana exchange documents after signing an MoU in Kigali. Such signings are a regular feat in Kigali between Rwandan and WB officials.
Research by World Bank Officials Shows $190m Rwanda Aid is Transfered to offshore Havens - THE CHRONICLES
Former World Bank chief economist and colleagues from two European universities have published a long-awaited research in which they show that global aid to poorest countries like Rwanda, is instead
https://www.chronicles.rw/2020/02/19/research-by-world-bank-officials-shows-190m-rwanda-aid-is-transfered-to-offshore-havens/
Former World Bank chief economist and colleagues from two European universities have published a long-awaited research in which they show that global aid to poorest countries like Rwanda, is instead being retransferred to offshore havens.
The research was done by Penny Goldberg, a World Bank chief economist, who resigned two weeks ago from her job when the leaks about the research emerged. The other colleagues are — Jørgen Juel Andersen of BI Norwegian Business School and Niels Johannesen of the University of Copenhagen and CEBI. The final contributor to the research was the World Bank's Bob Rijkers.
The research titled "Elite Capture of Foreign Aid: Evidence from Offshore Bank Accounts", was done for the World Bank, but then the findings proved too embarrassing for publication. The researchers were reportedly not allowed to share its contents. Penny Goldberg decided to leave her job, and the whole document is now published on her website.
The Chronicles reviewed the 46-page document and it gives grim reading. Reviewing data of 22 countries including Rwanda, the team shows that aid granted by the World Bank is falling into the wrong hands.
"After aid to a country increased, money departs for offshore havens," reads the research in part.
The other countries in the research are Uganda, Tanzania, Burundi, Zambia, Afghanistan, Armenia, Burkina Faso, Eritrea, Ethiopia, Ghana, Guinea-Bissau, Guyana, Kyrgyz-Republic, Madagascar, Malawi, Mali, Mauritania, Mozambique, Niger, Sao Tome and Principe, and Sierra Leone.
The research document is rather complicated. The research used quarterly information on aid disbursements from the World Bank, to these 22 most aid-dependent countries, in combination with Bank for International Settlements banking statistics, which cover the flows between the country receiving the aid and havens such as Switzerland, Luxembourg, the Cayman Islands and Singapore, where secrecy and asset protection are paramount.
For comparison, the research also looks at flows between the recipient country and Germany, France and Sweden — places not as vaunted for their banking secrecy. Scenarios that you would expect to lead to higher inflows and outflows, such as wars or financial crises, are excluded.
For the case of each country, the research shows how much much money moved out from the state coffers, immediately it arrived from the World Bank.
For Rwanda's case, the annual World Bank disbursement is 2.7% of GDP. For example, in 2018, Rwanda got double what it used to get in previous years, rising to $545m from the World Bank.
The researchers shows that in their investigation, $149m exited Rwanda and was deposited in offshore havens. During the same period, $41m left Rwanda for non-offshore havens. This means $190m left Rwanda in a very short period of time.
For offshore deposits of money from Rwanda, the researchers found a quarterly increase of 0.06% in deposits for offshore havens, but the deposits in non-offshore havens reduced by -1.0%.
For Uganda, the researchers discovered the opposite from Rwanda. They found $73m was deposited in offshore havens, while $188m left Uganda for non-offshore regions.
In Tanzania, the money leaving the country's coffers to be hidden away, is exorbitant. During the period that the researchers investigated, $145m left Tanzania for offshore accounts. However, a whooping $437m was deposited in non-offshore havens.
For the smallest economy in the East African Community (EAC) region, Burundi, $103m was ferried out of the country to offshore accounts. At the same time, just $19m was swindled off to non-offshore regions.
South Sudan and Kenya, both EAC menbers are not in the research. What is clear is that Rwandans and Burundians prefer hiding most of their money in those deeply secret havens where no one will ask questions. While, Ugandans and Tanzanians are fine with stealing the World Bank cash and sending to places that dont tolerate spoils of theft from poor countries.
There was a problem that the researchers admit in the paper. For instance, it was impossible for them to tell who exacy in terms of names, is moving the funds out of the country, with the statistics used, only counting the total flows per quarter between countries.
While there have been different leaks over the years showing how money was flowing from poor countries to Switzerland, Luxembourg, the Cayman Islands and Singapore, it is the first time Rwanda has been highlighted. It is particularly shocking as the data comes from inside the World Bank, which has repeatedly given a clean bill of health for different aspects of Rwanda